1001 Miglia 2021 on a recumbent bike
There is also a video from this ride:
I've been wondering how to describe an epic ride like this, but I don't think there is a way to really convey the experience and the feelings of just riding and riding for days on end. Keep in mind when I sum up one of the long 17 stages in a few sentences, that each of these stages took hours of climbs, descents, turns, and straights. Some during the scorching hot day, some through the night, and some in the pleasant evening hours. You don't really think about much during all these hours, you just let the mind wander. And you get songs stuck in your head. Sometimes for days. For a long while we were traveling in a big circle around the city of Lucca. Unavoidably, this triggered «My name is Lucca» in my head, and each time we rode past a Lucca sign, this fed my obsession with the song. Looking at the map, this might have gone on for 80 km, but it felt like I was in this state for hundreds of kilometers.
Having said that, the daunting distances aren't really as impossible as they may sound. When you're contemplating a weekend ride, it sometimes takes serious willpower to jump on the bike for an 8 hour ride. But when you're in the middle of an epic ride, there isn't anything else to do but to continue. You simply accept that you will be on the bike for 5 days straight, and that's it. It's not really getting boring, at least not for me. You know that within the next hour something will change, whether that is the end of a climb, the end of a stage, the appearance of daylight, or a cafe stop. Like I described above, your mind enters a special state and becomes peaceful after the initial rush. Ultra-endurance is really the best kind of meditation there is. Still, I used mental tricks. I generally didn't occupy my mind with the ride beyond the current stage. And I broke longer stages into smaller pieces. One climb at a time. I broke long climbs down into pieces of 100 meters of elevation each. And when there's less than 40 km remaining on a stage, you can simply count it down. When descending, I would often be surprised at how far we had climbed. When I thought we must have rolled down to the bottom, I would typically see that we had just lost 150 meters of elevation, and had maybe 400 meters left.
Pre-ride
The Poli Hotel was definitely bicycle friendly.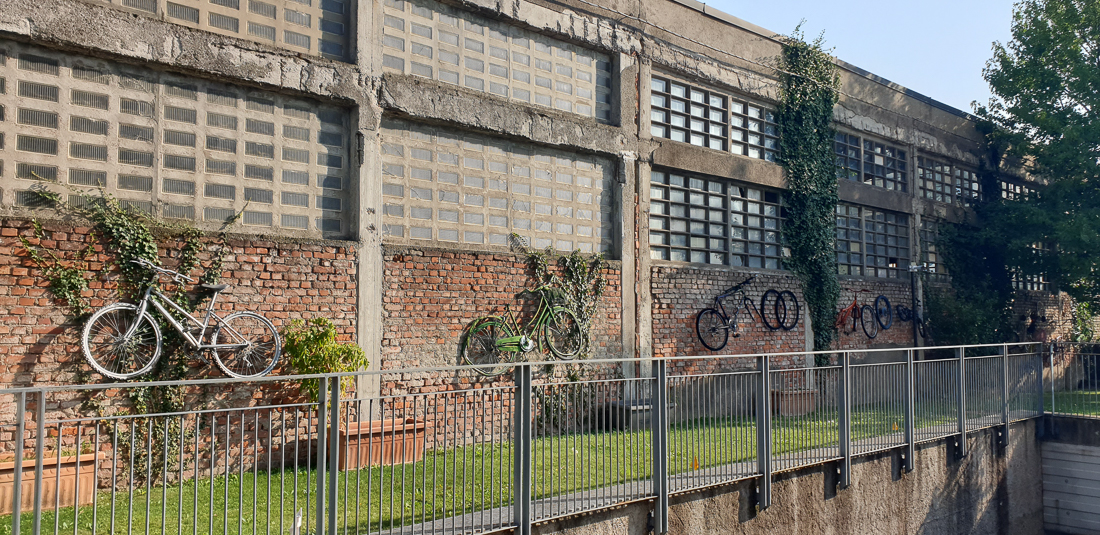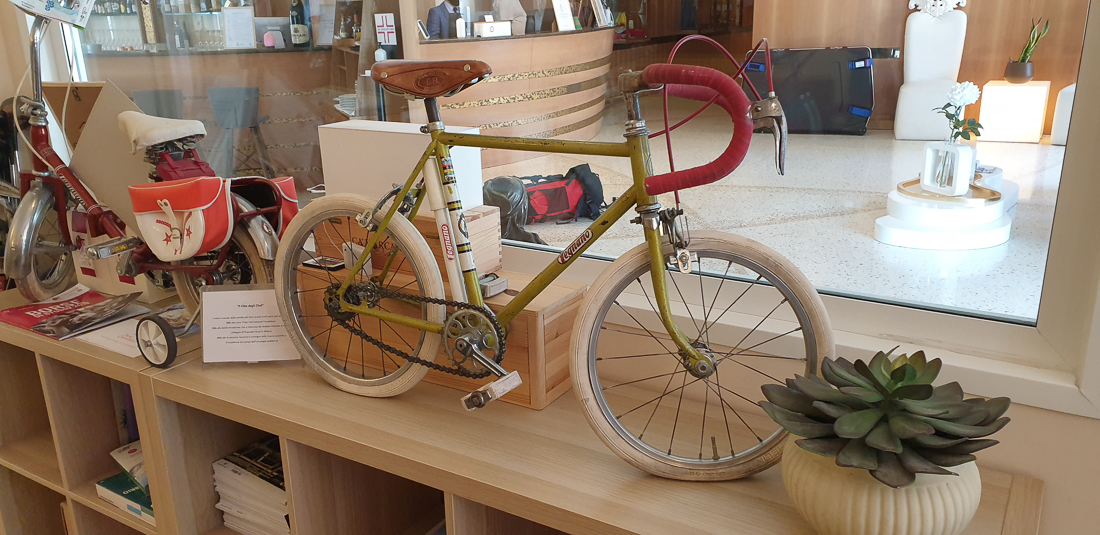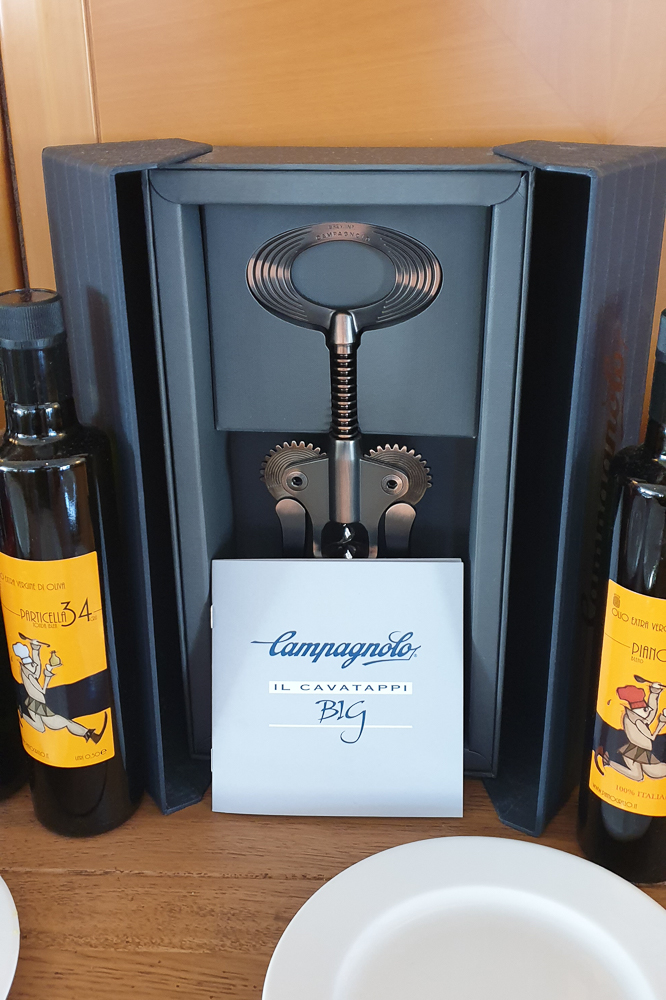 It made a whole conference room available for bike building and storage. I had a look at the other bikes. About half had dynamos, like me. I noticed one bike had TCR (Transcontinental Race) and Mike Hall stickers on the rear fender.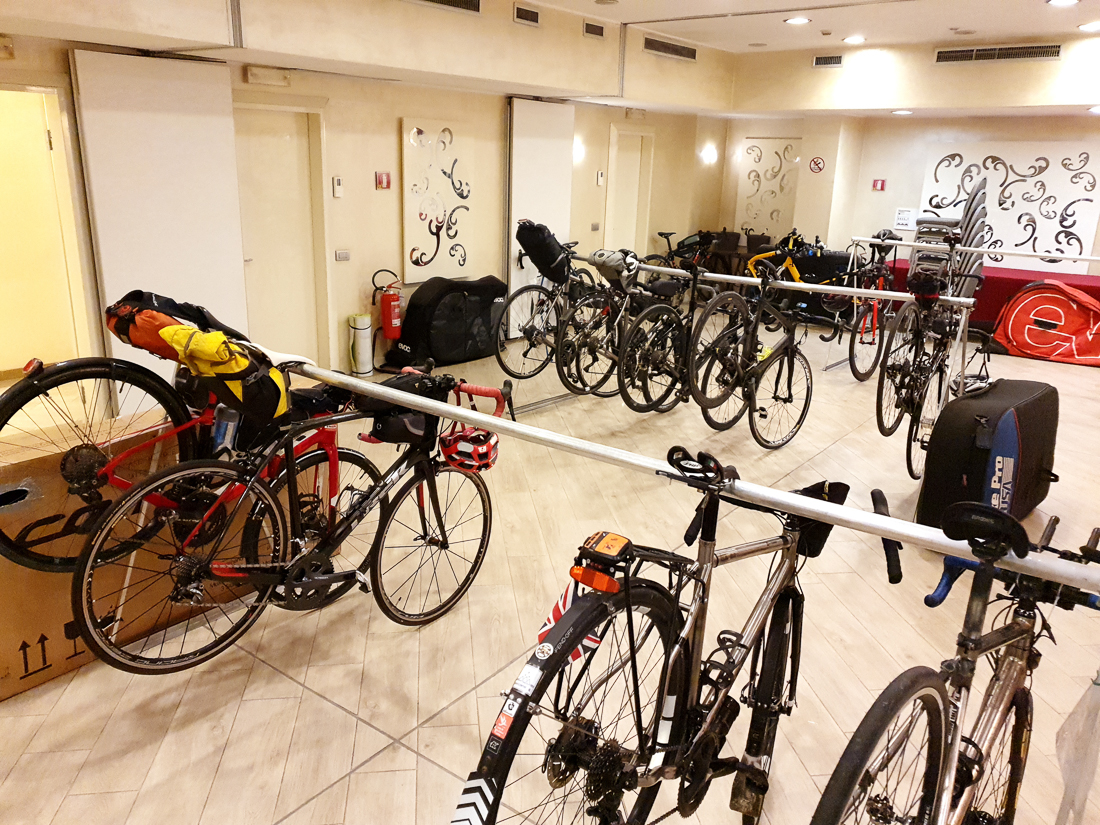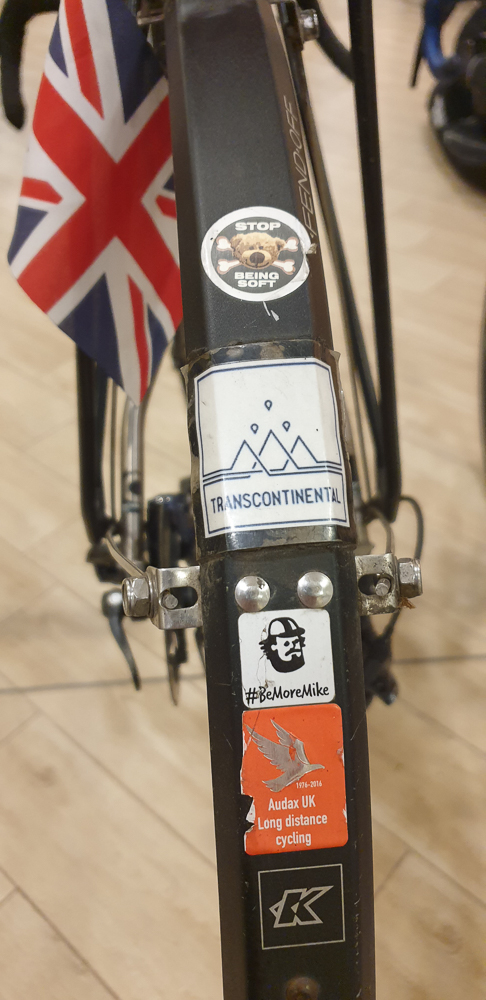 I met several riders, such as Alan Silva, a Brazilian living in the UK. We had dinner together at the hotel, and we talked a lot. He told me about founding the Brazilian audax organization with some friends many years earlier.
After arriving on Saturday, I managed to assemble my bike and go for a short ride down to the start area in Parabiago.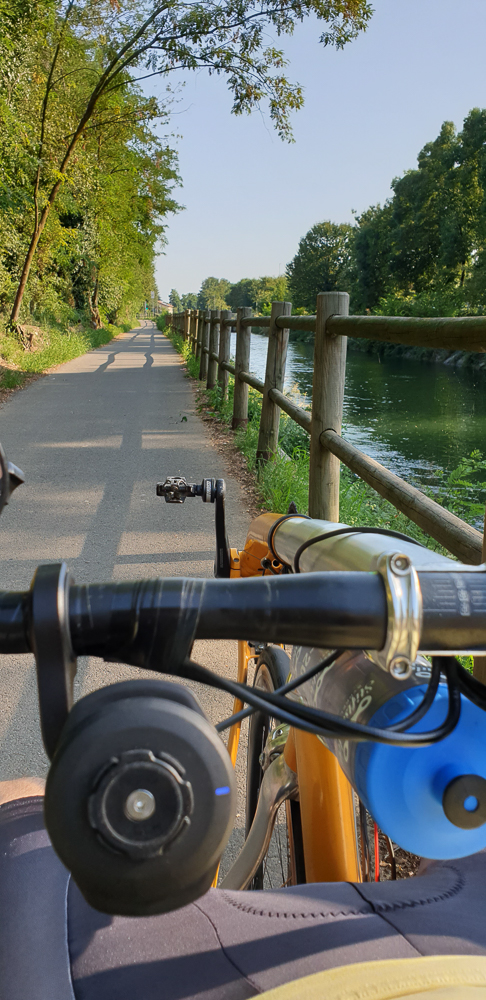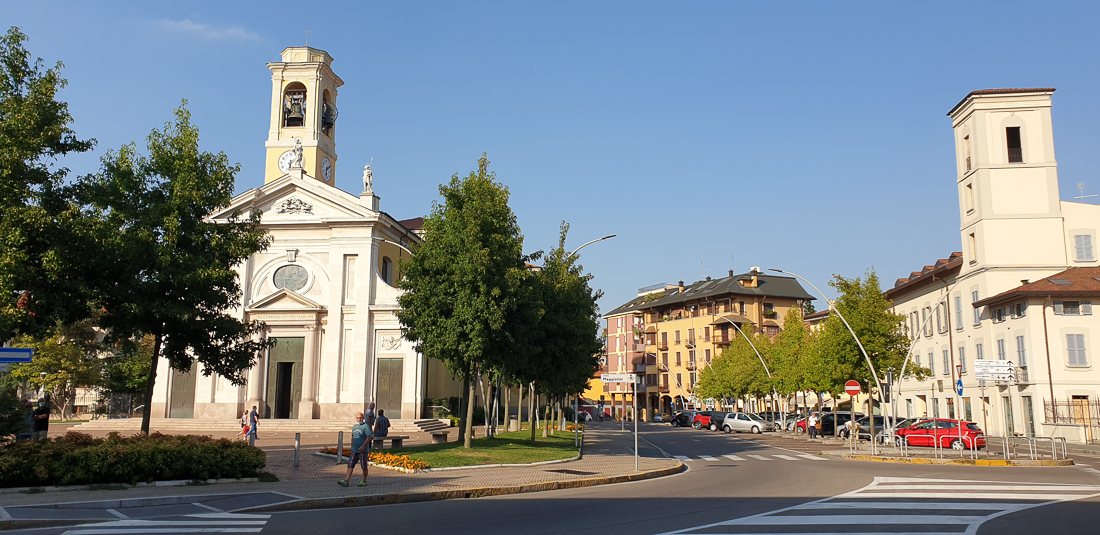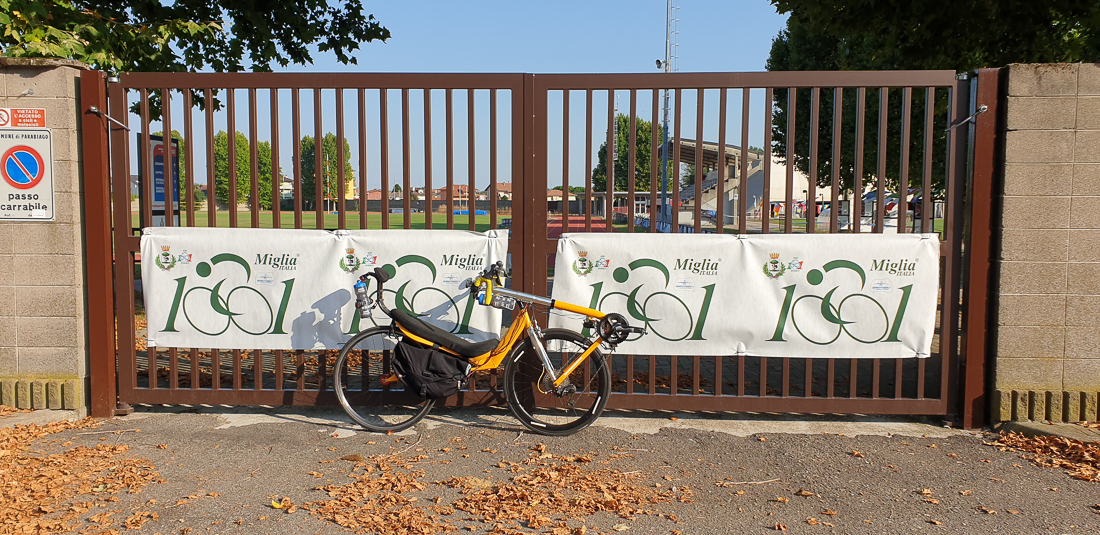 Sunday, I went for a longer ride into Milan, and got some heat acclimatization.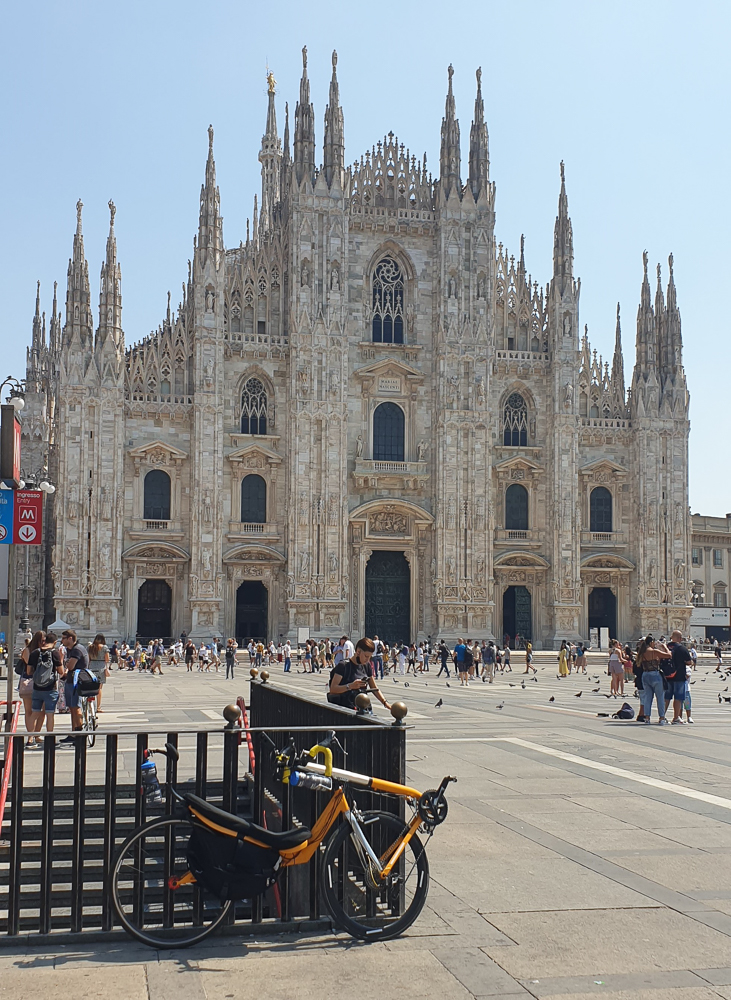 Monday
On Monday morning I wanted to sleep as much as possible, but of course I woke up at 5:30 and couldn't really sleep after that. After breakfast and some more rest I headed down to the start area, where I met Martin from Sweden as well as 3 of the Danes. Martin, as it turned out, is a friend of Oscar Hellström, one of the really strong Swedish randonneurs who I know because we both belong to a very exclusive group of people who have ridden the Stavanger 1000 km brevet (solo in each case). Martin is also a very accomplished randonneur. So are the Danes. In fact, almost everybody I met had either done PBP and/or other impressive rides.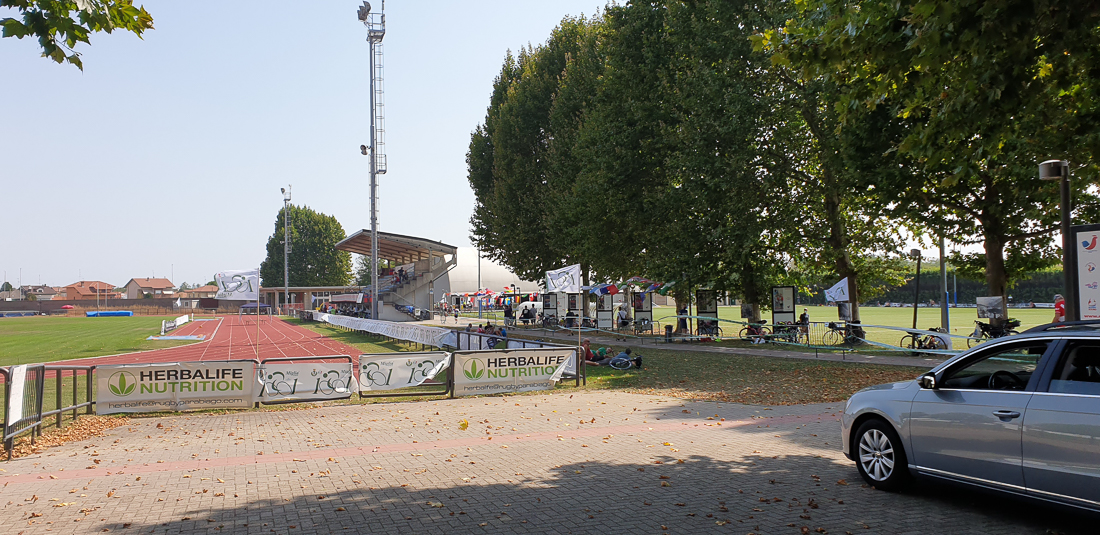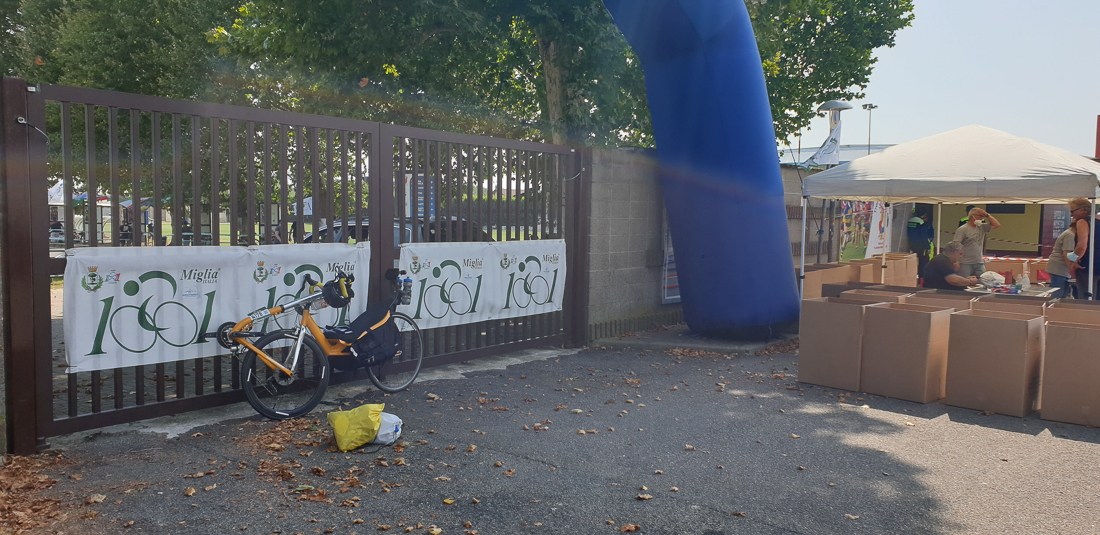 I was supposed to start at 18:05 on Monday, but as the two other Norwegians didn't come, Giorgio Rigamonti allowed me to switch to one of their start times at 16:25 instead. That actually gave me less time than planned to get ready, and I hadn't yet sourced any food to keep me going through the first night. The first three controls were not supposed to offer anything other than water, which meant 362 km and 4500 meters of elevation before any food was served. Of course you can stop wherever you like along the course to buy food, but nothing would be open during the night. I had expected to find a nice Panineria in the start town, but during the summer holiday in Italy there really is little going on outside the tourist destinations. As I picked up my start number, I asked where I could get food, and they told me that when I got my pre-ride pasta, I could ask for ham sandwiches, no problem. I went to get my pre-ride pasta and asked for ham sandwiches, but of course, no such thing was available. Anyway, I met Alan S. there and he introduced me to Dutch rider Laurens Wolting, who I would come across later.
After the meal, I let Google guide me to one of the few open grocery stores nearby. It had nothing resembling sandwiches. In the end, I got some waffles and candy, and a couple bananas.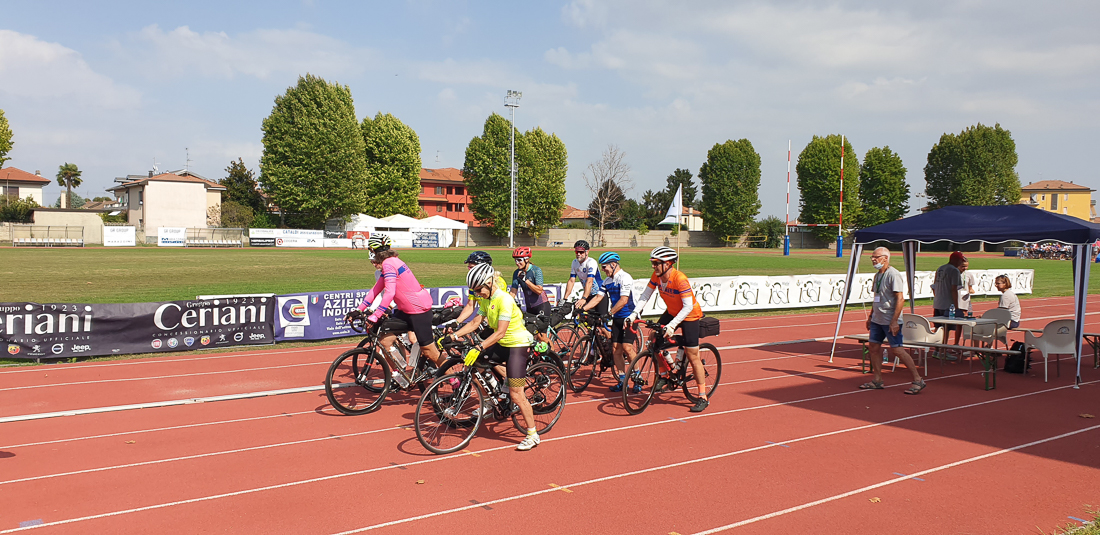 As I got back there wasn't time for anything other than getting into the start pen. I had seen two other recumbents in the start area, and one of them was a Cruzbike S40, same brand as mine! As it turned out, he started in the same group as me too. Unfortunately, I didn't get his name or number, and I don't know how his race went. Please let me know. But the start was a surprise. I had expected a group of 20-30 riders who would immediately set a rather decent pace on the flats toward the south. Instead we were just a handful of riders, and the group disintegrated even before we left the sports centre.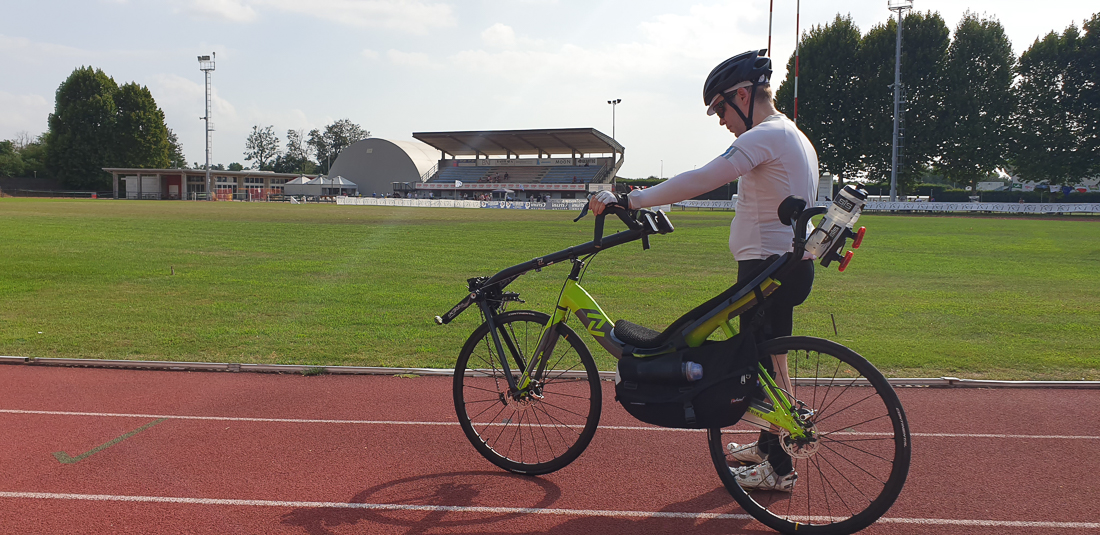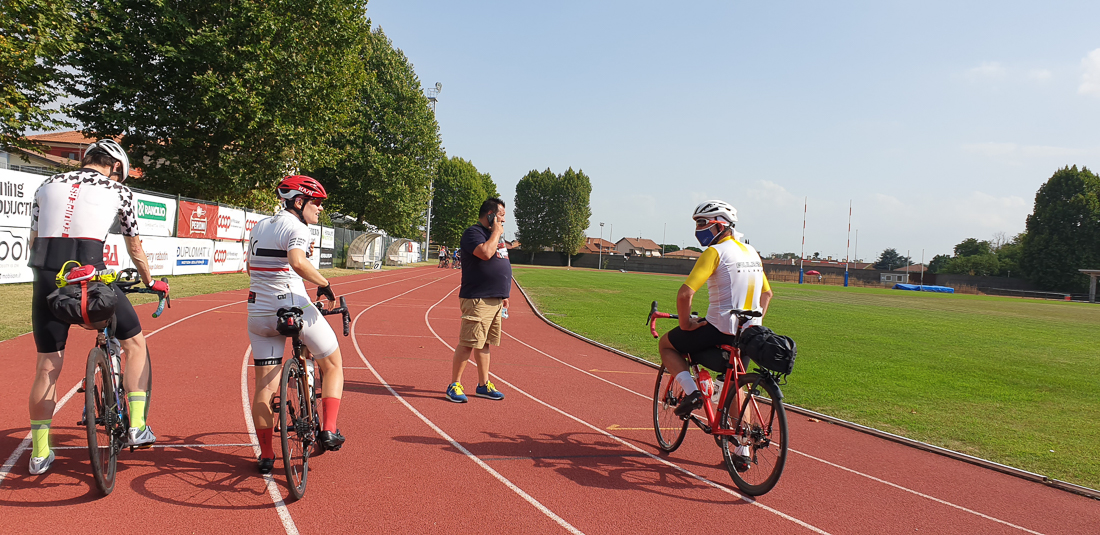 There were enough people on the road that small groups were formed nevertheless. I rode for a while with the Cruzbiker and some fast upright riders. As I hadn't even had time to post my Ride With GPS tracking link to social media before the start, I did this during this first stage. Pretty soon we reached some roads with indescribably rough tarmac. The highly variable road surface would, unfortunately, become a continued nuisance throughout the ride. I was prepared for the heat and the long climbs, but the biggest turnoff was the road surface. I understand that not all Italian roads are like this, but for the remote roads chosen by 1001 Miglia, this was definitely the case. And it wasn't just me. Alan S. said the exact same thing. I didn't help that I was on a recumbent. When the whole width of the road is rough, there's not much you can do to avoid it. Ahead of the event, I had bought a pair of 28 mm Cadex Classics tires. Unfortunately, the front tire would just about make contact with the fork crown, so I couldn't use it. I ended up using the 28 mm on the rear at 60 psi, and a 25 mm GP 5000 on the front at 70 psi. Both set up tubeless. Luckily, I had no punctures and no damage done to my wheels, even though I had a few very hard impacts. If you're going to do this event, I recommend at least 32 mm tires, perhaps wider.
After 46 km we crossed the Ticino river via the unique Bridge of Boats of Bereguardo, with a 700-year-old history, one of the few pontoon bridges in Italy that can be crossed by car. Tor Frithjof of Randonneurs Norway had warned me about this bridge, and I can understand why. The plank surface was loose and full of gaps, and the metal parts added to the challenge.
As we continued hanging on to fast riders, at some point the Cruzbiker fell behind, and I never saw him again. Eventually, the climb up to the Fausto and Serse Coppi mausoleum started. This was only a couple hundred meters in elevation, and it wasn't steep all the way, but it gave us a taste of the steep climbs to come. It also gave me an indication of my climbing speed. As expected, the riders around me were now faster than me. It's not that the bike is slow uphill. The Cruzbike is actually a pretty decent climbing machine. It's just that on the climbs I no longer have the aerodynamic advantage that lets me ride with people who are stronger than me. I'm also heavier than the average cyclist, and I've never been much of a climber.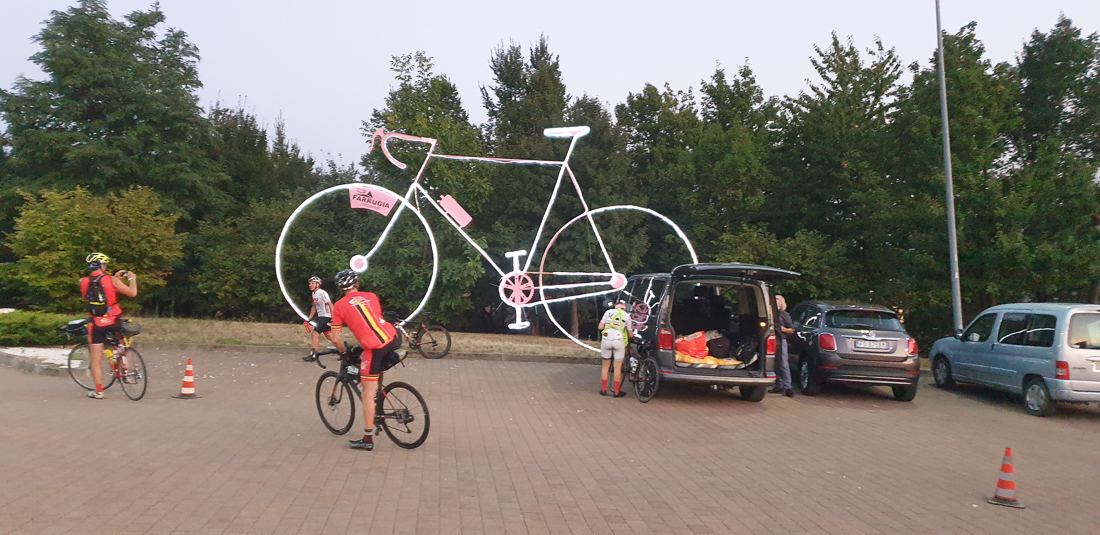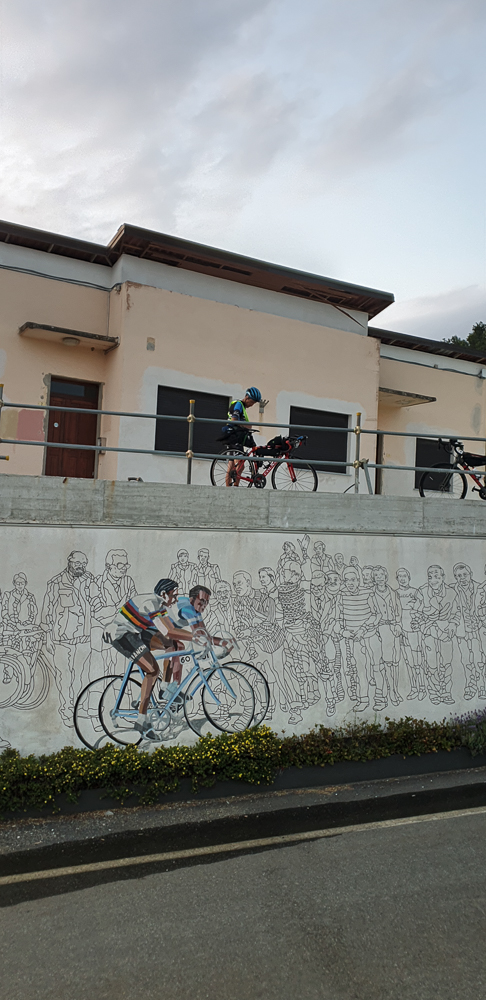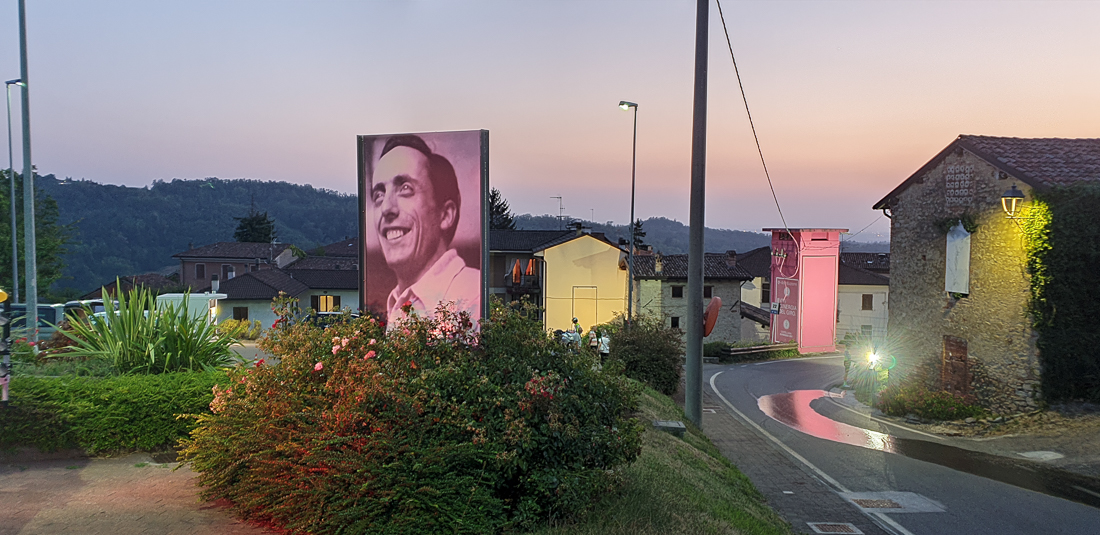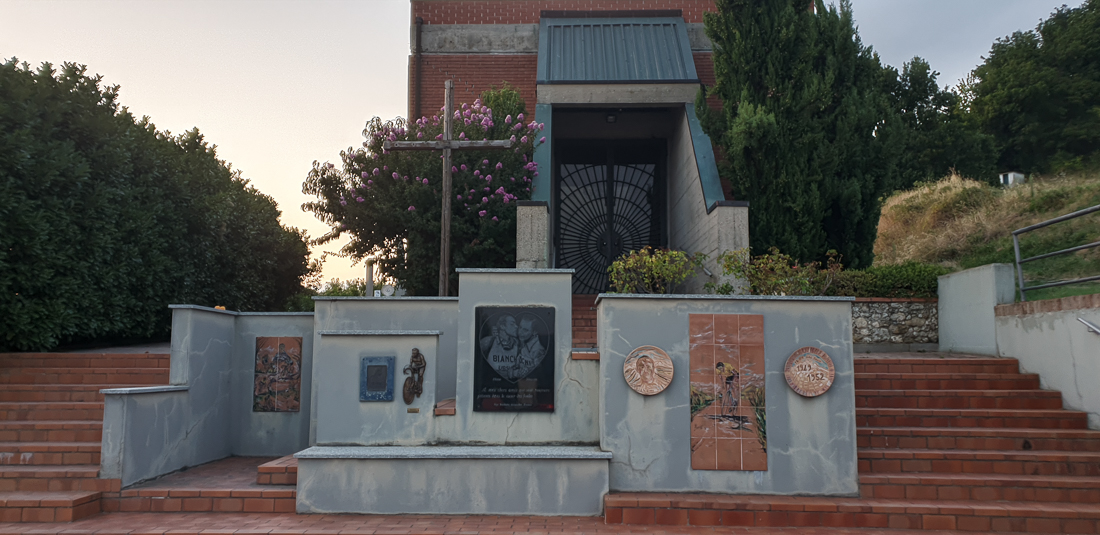 I reached the mausoleum, and the first control, just as daylight faded. When I got on the bike to descend the hill we had just climbed, it was dark. Stage 2 was a peaceful, easy ride through darkness for 53 kilometers. At the next control, I was pleasantly surprised to see that pasta was available, contrary to the route info. This resolved my night fuel conundrum. It would have been nice to know about this when I was frantically looking for food before the start. Although, the food here was apparently an added service that we had to pay a few Euros for. In remaining controls, food was included. Martin started some time after me, and at this control he caught up with me. He had been riding with a couple other fast ones, one of them being Dutch rider Bart Verheijen.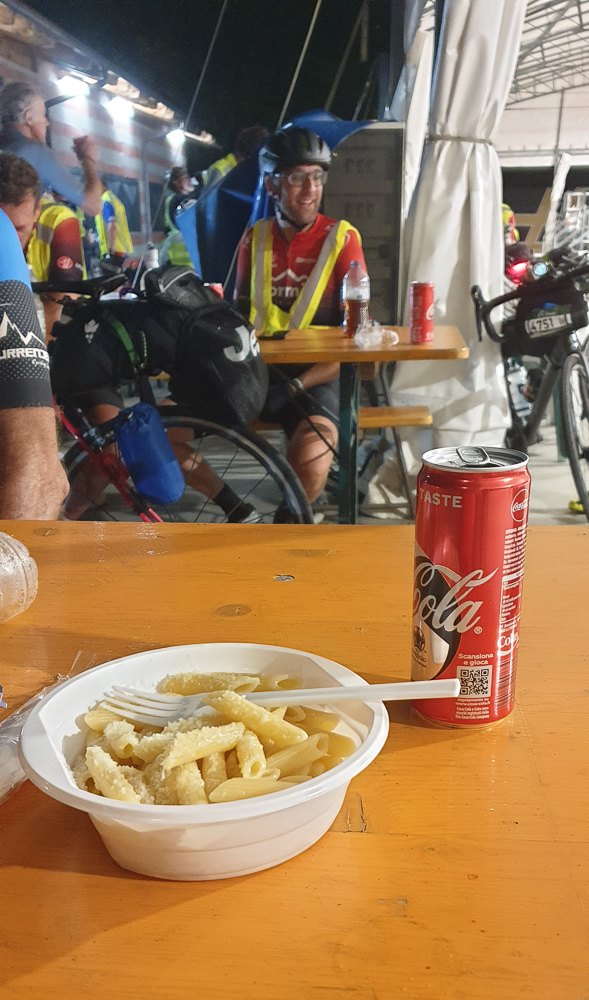 Tuesday
As I got going again, I expected Martin and the boys to speed past at any moment, but that didn't happen. Stage 3 would eventually take us down to the Mediterranean coast east of Genoa. It was dark and not much to see, but you could still feel you were on the Riviera.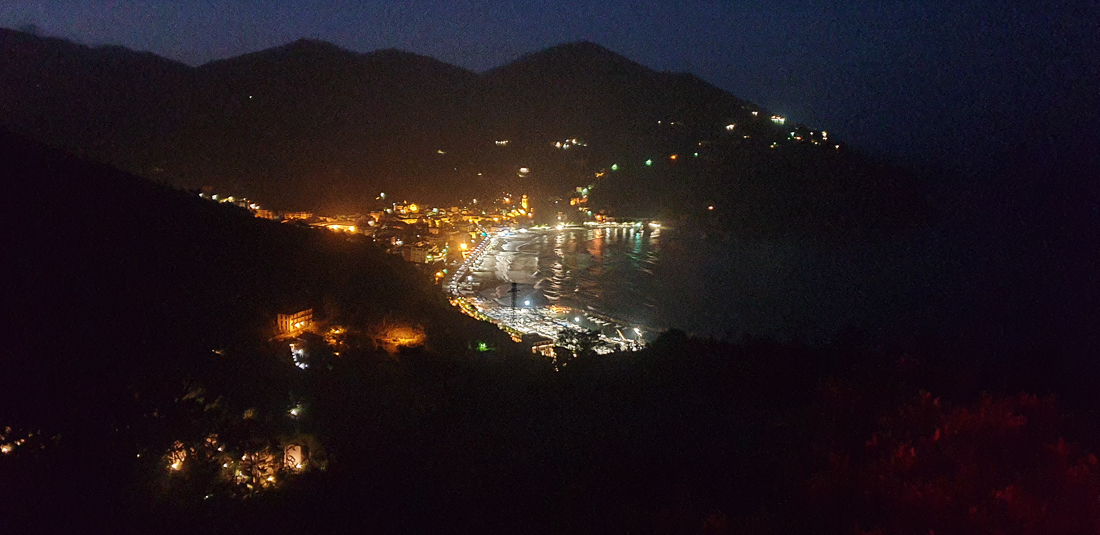 Somewhere around here I took a caffeine boost. I had been off coffee for a week, in order to be able to use caffeine as a stimulant during the ride. This had worked well during PBP and it worked well this time too. It was no problem staying awake the first night. In fact, I didn't really struggle with sleep deprivation during the rest of the ride either. A few hours of sleep at night, a few power naps, lots of coffee and some caffeine boosts were enough to keep me going.
Pretty soon we started the first real climb of the ride. This would take us up to a town called Piazza before descending almost down to the coast again, to the control at Deiva Marina. Once more, the route info was inaccurate, because this was a big sports hall were some riders had decided to take a sleep stop, though it didn't look like any of them had any mats to lie on. I met Laurens here. He was not impressed by the sleeping facilities.
And now the biggest challenge of the ride begun, the dreaded stage 4. We were 11,5 hours into the ride, and this stage would keep me occupied for the next 9 hours. It started with the climb back up to Piazza, then the climb continued heading south for another 40 minutes. All of a sudden, a rider in front shouted that we had to turn around. He had probably just followed the GPS track on his map screen, and totally missed the descent to the control at Deiva Marina. I suppose he thought that applied to all of us, until he quickly realized that he was the only one that hadn't been there. We chatted a bit about his options, but in the end it was clear that he had to go back. Tough!
Following this climb and descent down to Levanto, we had made it through the first night, and already at 5:00 in the morning, Italian bars and cafes start opening. This would be the first of many such cafe stops. I bought a double espresso and again I met Laurens. As I was about to leave, the unlucky rider appeared. He had met one of the volunteers who patrol the course by motorcycle and told him about his misfortune. The motorcyclist had picked up his phone and promptly scanned the QR code on the start number plate. With that, the rider was checked in, and could turn his bike in the right direction and continue the ride. Lucky, and maybe just a tiny bit unfair.
Another hour-long climb was coming up, and with that the light of the first full day on the road also appeared.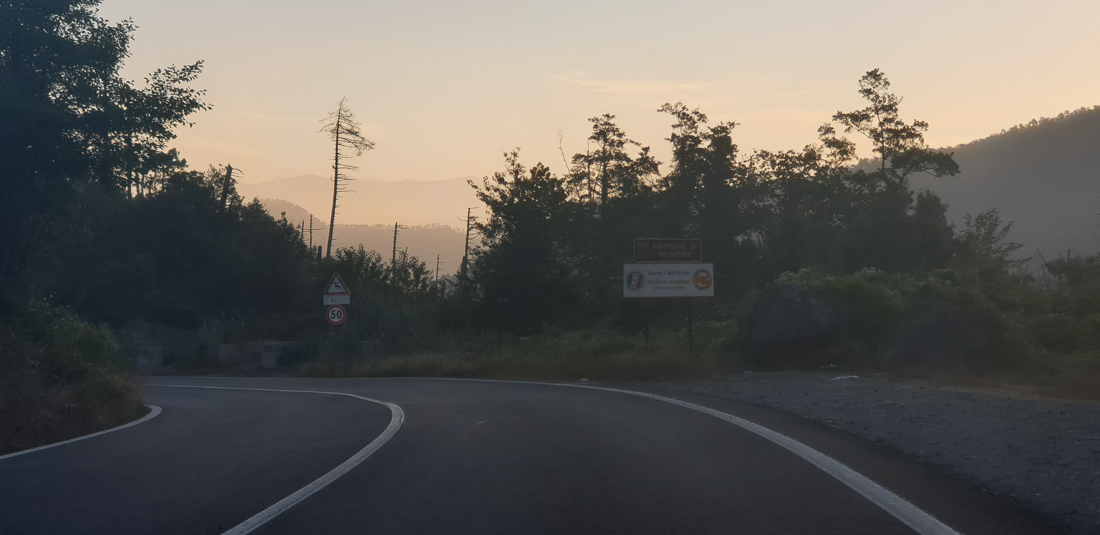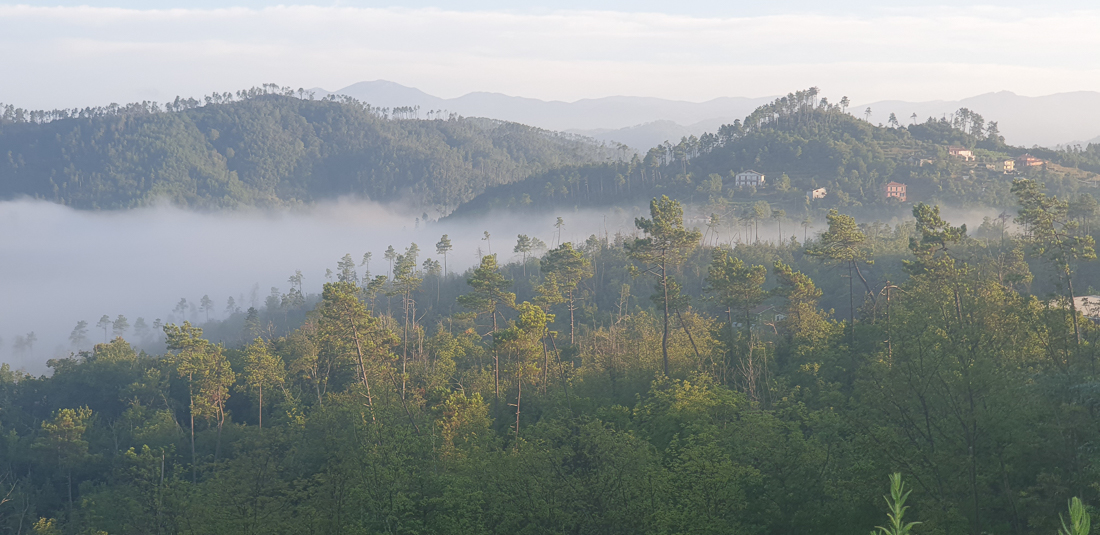 After the descent, it was time to get some breakfast, and Laurens and I stopped at a bar in San Remigio. They didn't have much interesting food, but I bought a piadina and a cappuccino. As is often the case, I struggle to get down food in the early morning after a night of riding, so this stop took almost an hour.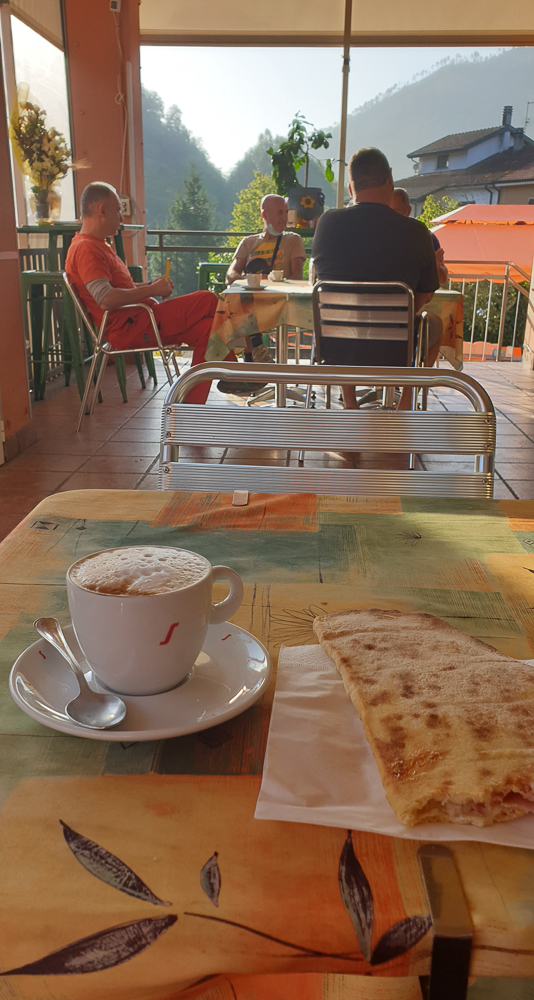 Just 20 minutes later, we were in for a shock. 450 meters of elevation with several bits at a 10-13 % gradient. And we were getting our first dose of heat as well. I needed to open my jersey at this point, which was a problem because when I had mindlessly applied sunscreen before the start, I had just done what I use to do during Norwegian summers, i.e. put it on just my legs and arms. My bare chest would soon turn pink with sunburn for the remaining ride.
I even had to get off and walk for two minutes near the top. Before this ride, I had done a long, mountainous test ride in Norway (Around Jotunheimen, 430 km, 5500 meters of elevation). I did that with a 34/36 low gear. It worked, but the steepest hills were no fun. In case the Italian hills were similar, I put on an 11-40 cassette, an MTB derailleur, and a Jtek Shiftmate in order to make it work with road shifters. And I'm glad I did. I used my lowest gear a lot, and still there were climbs I had to walk. I don't know about the other two recumbent riders, but if they didn't have similarly low gearing, I imagine they must have struggled.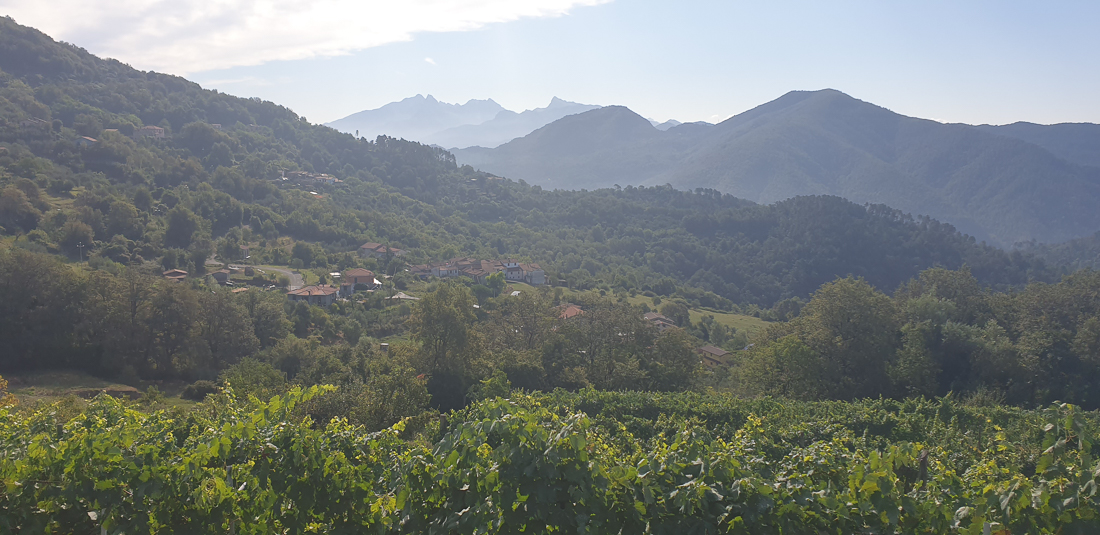 I can't remember where it started, but my front brake was slowly disintegrating. One of the brake arms had developed play in it, and would angle forward a bit whenever I braked. Needless to say, this was a bit unnerving, but I had decided to mostly use my rear brake anyway. My rear home-made dynamo wheel uses a cheap alu rim. I would prefer to wear this down rather than the expensive carbon front wheel. Keep in mind that a Cruzbike is front wheel drive, which is why the dynamo wheel is in the rear.
After getting down from the steep hill, I stopped at a place to buy an ice cream and a cold Fanta. I continued for a bit, but felt really drained from that last climb. When I stopped again to dig out a gel, Martin came up and also stopped to chat, which was nice. He expained how he had hit a pothole on a descent so violently that his tubeless road tire had burped out its air. He had then failed to seat the tire again, and his spare tubes did not have long enough valve stems, nor replaceable valve cores, so he couldn't fit valve stem adapters. He had struggled with this for a few hours until a German was able to help out with the right kind of tube. He was now in need of a bike shop in order to get working spare tubes.
It was only after Martin had continued up the road that it occurred to my fried and depleted brain that I did in fact carry spare tubes with long stems. Anyway, after the 90 minute long climb up to the control at the beautiful village of Gorfigliano, I met Martin again and was able to provide him with a spare tube, which he appreciated a whole lot («Songs will be written about you», etc.). I also met Jens the Dane here. As it turned out, this would be the last time I met any of them on the road, as they went on to set the 20. and 53. fastest times, respectively.
I found it amusing that this control did not serve soft drinks, just water and beer. As much as I love beer, this was not what I needed. In Norway, serving alcohol to sporting event participants would be absolutely unheard of. Anyway, this was also the first official pasta serving control.
I was happy to have completed this stage. I told myself that when I had this one wrapped up, I should be able to do the remaining stages as well. That's not completely true of course, as there would still be plenty of challenges, but it was a mind trick I played on myself to keep any thoughts about quitting away.
The final stage of the day descended down from Gorfigliano and past the beautiful Lago di Gramolazzo. It was still very hot, I was getting quite sleepy by now, and after a while I stopped at a bar to get an ice cream and a Coke with ice.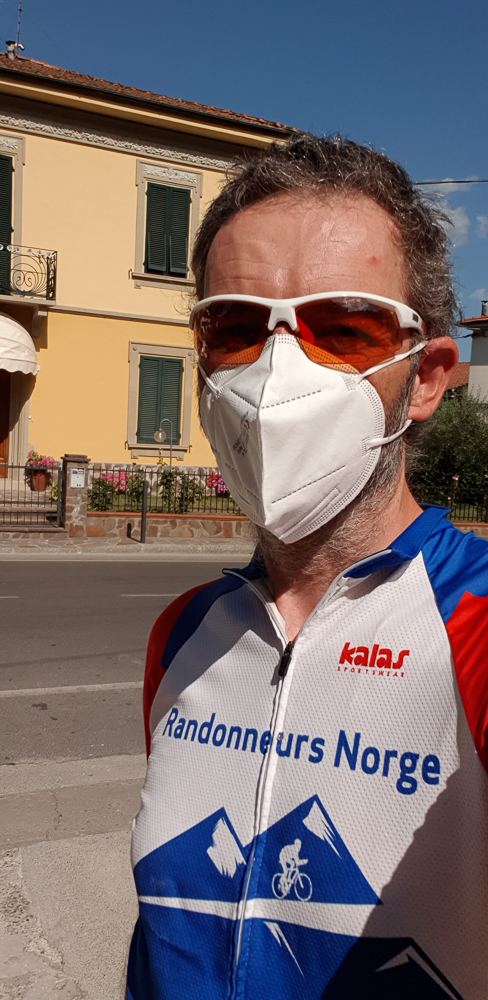 Then another big climb, and a descent down to the giant Pinocchio statue in Collodi. The rest of the day would be flat, but it was still hot, and with 30 km to go I stopped at a grocery store to get some more food and to cool down. After that, I could enjoy a nice, early evening ride into Pontedera, home of the Vespa. The control had a nice selection of pasta, potatoes, fruits, etc., and a nice seating area. The sleeping facilities were less impressive. A concrete floor, where a lucky few got thin bamboo mats. There was also a big grass field that appealed a bit more to me. I used my super thin, compact silk sleeping bag liner, and got 4 hours of pretty good sleep. Another round of pasta, and then I was on the road again by 2:00 in the morning.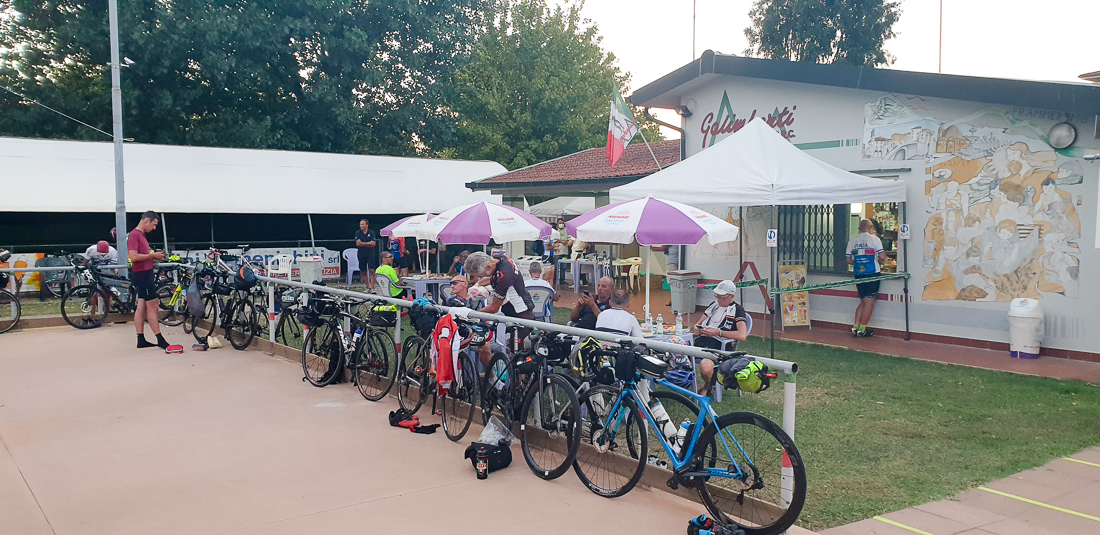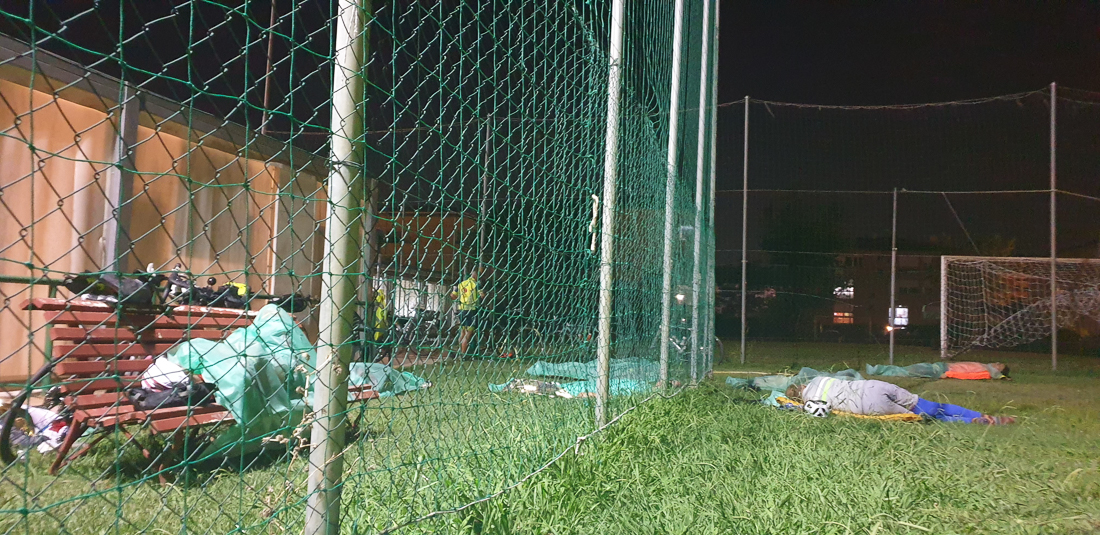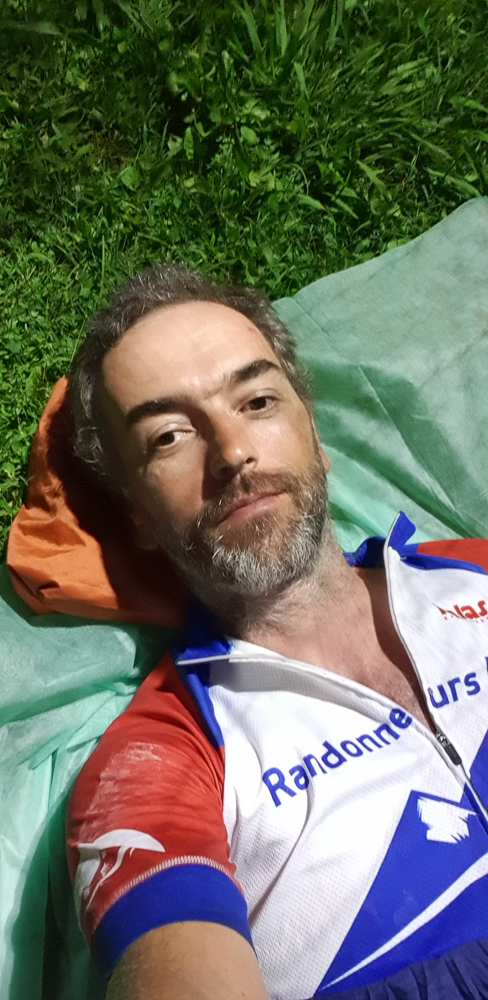 Wednesday
On the flats out of Pontedera, in the middle of the night, I was alone on the road for the first time. It would certainly not be the last. Other riders were never far ahead or behind, but you don't really know this when you don't see them. This wasn't PBP, where you have people around you more or less constantly.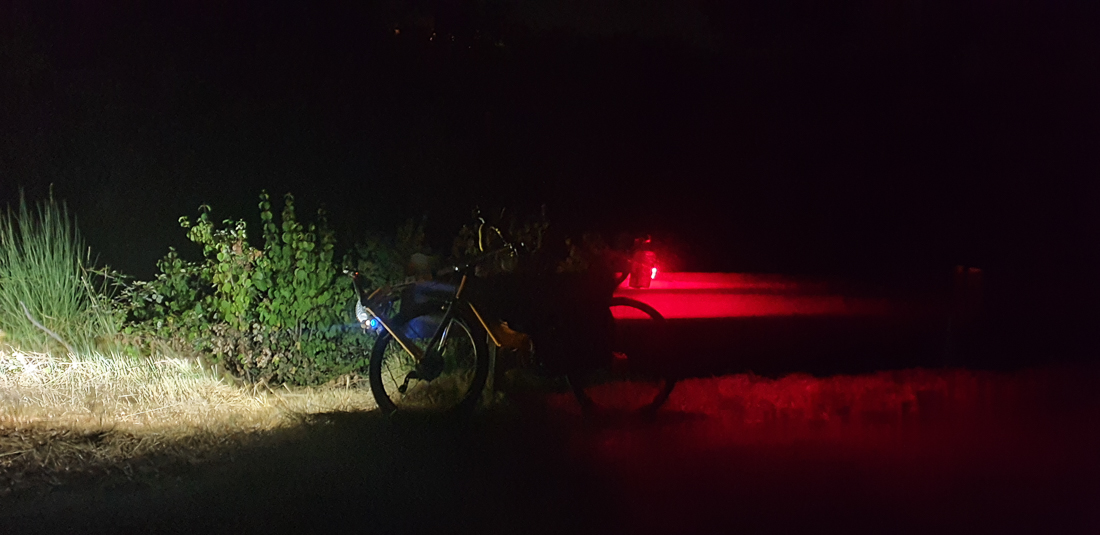 As I started the big ascent of the stage, I was feeling tired. Near the top it got steep, and I walked for a bit. The descent was actually quite cold with my light clothing, as it got down to 13 C during this night. Later, when I passed a small park with a bench, I lay down for 15 minutes. Much more comfortable than the grass at Pontedera!
I was looking forward to see the medieval towers of San Gimignano, but in the darkness I saw nothing. Now that I'm writing this, I realize that the bench I slept on was in the middle of San Gimignano! I continued for a while through a very remote area. When a roadside cafe appeared, it was time for some coffee and food. Although the food on offer is typically just sweet pastries, at least it's fuel. Daylight was coming, and as I left, another rider commented that «this is going to be a popular spot throughout the coming day». That rider was Alan Parkinson, who I would bump into at basically every control until the end of the ride.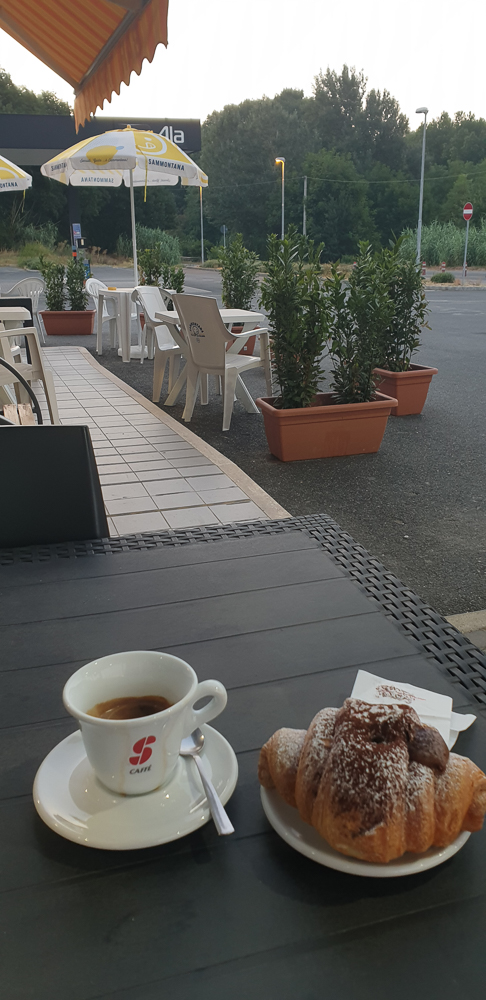 The rest of the stage was a lot of up and down into Tuscany. I caught up with another rider, and I recognized the stickers on the rear fender from the bike room at the hotel. This is when I met Alan P. properly, and we started chatting, mostly about TCR. As we rode past the beautiful Tuscany landscape, we stopped to snap a few photos.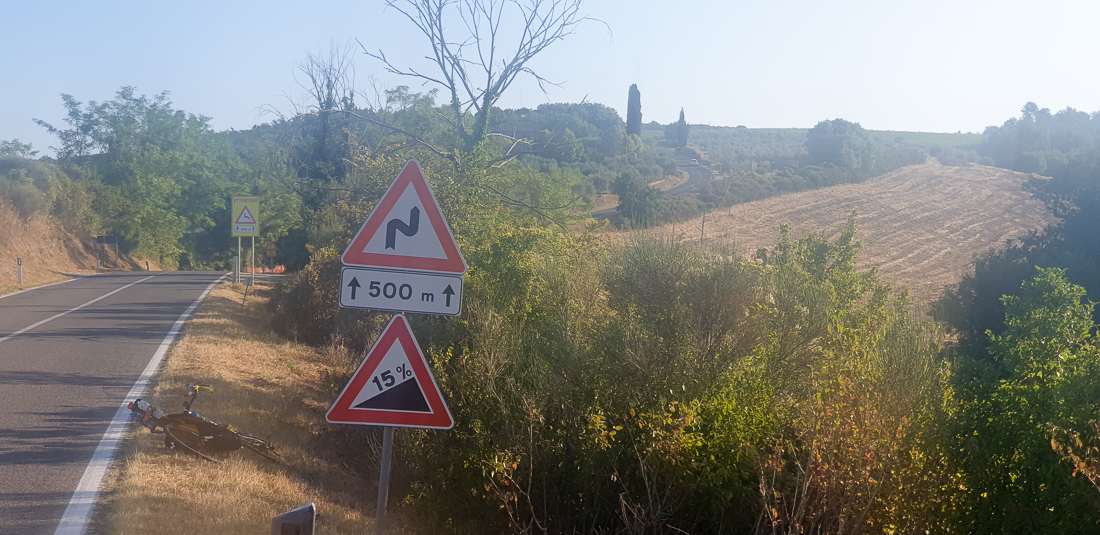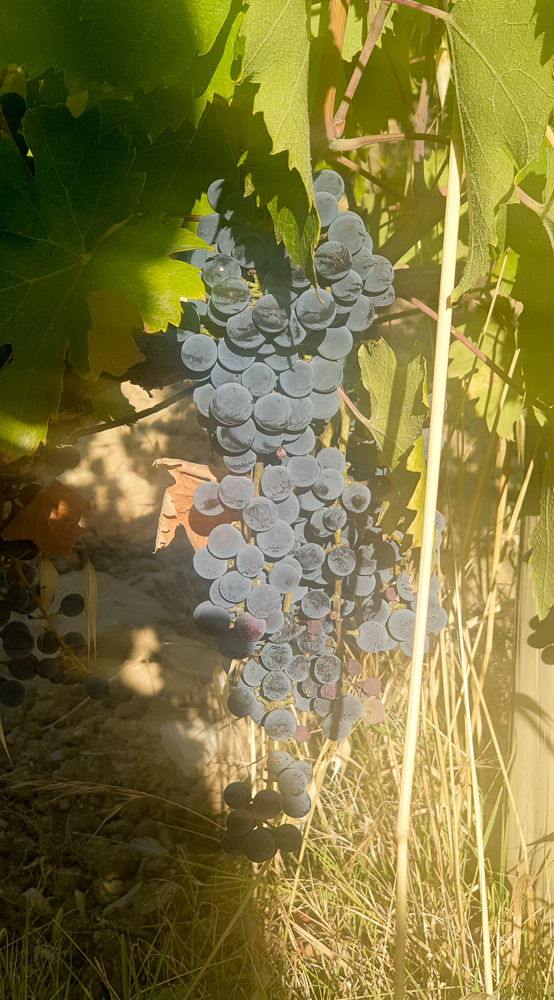 Eventually, we made it to the control at the end of stage 6, which was a bag drop control. I changed clothes, put my power pedals on charge, and replaced the Li-ion cells in my Forumslader with topped up ones, as I didn't want to spend more precious power than necessary charging batteries using my dynamo. Then I got my plate of pasta and fruit. Laurens and Bart were there, and we talked a bit about Martin and his near-DNF.
The next stage was supposed to be an easy ride through Tuscany, but it was one of the hardest, due to heat and a series of steep ups and downs toward the end. In the town of Asciano there was a park with water and benches. I stopped to cool down and get a power nap. I was woken up by church bells after 20 minutes, which was perfect, really.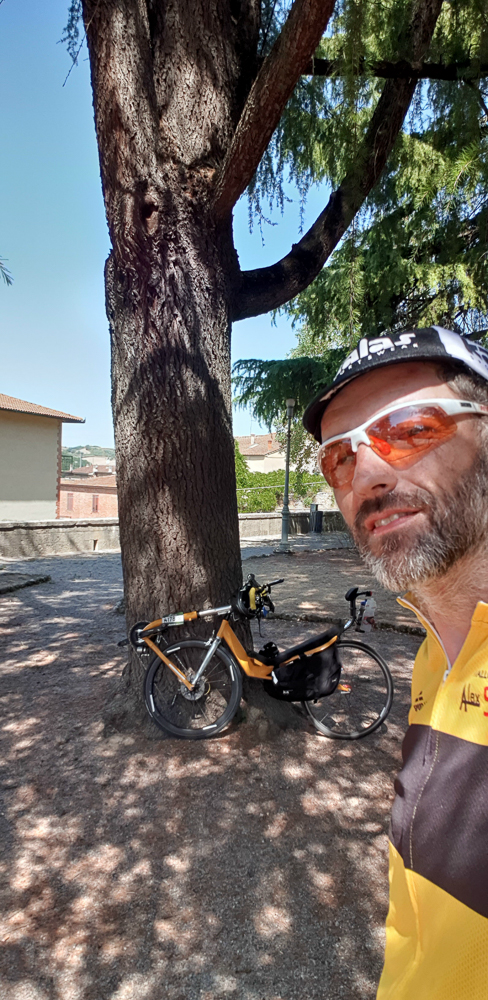 Now we entered the Crete Senesi, an area of Tuscany with a brown and grey lunar like landscape. Certainly, this was the most beautiful area of the ride. The temperature was supposed to be around 32 C, not nearly as bad as it could have been, but temperature in the shadow is a rather hypothetical construct when there is no shadow to be found. My Garmin recorded an average temperature of 35 C over several hours, and it certainly felt like it. Combine this with a number of climbs that got up to a gradient of 9-14 %, and you might be able to imagine how tough this was. I walked one of the climbs. Not because it was impossible to ride, but because I needed a change. When I did the next one on the bike, I realized riding wasn't really harder than walking. All in all, I think I handled the heat fairly well, and certainly no worse than the other participants.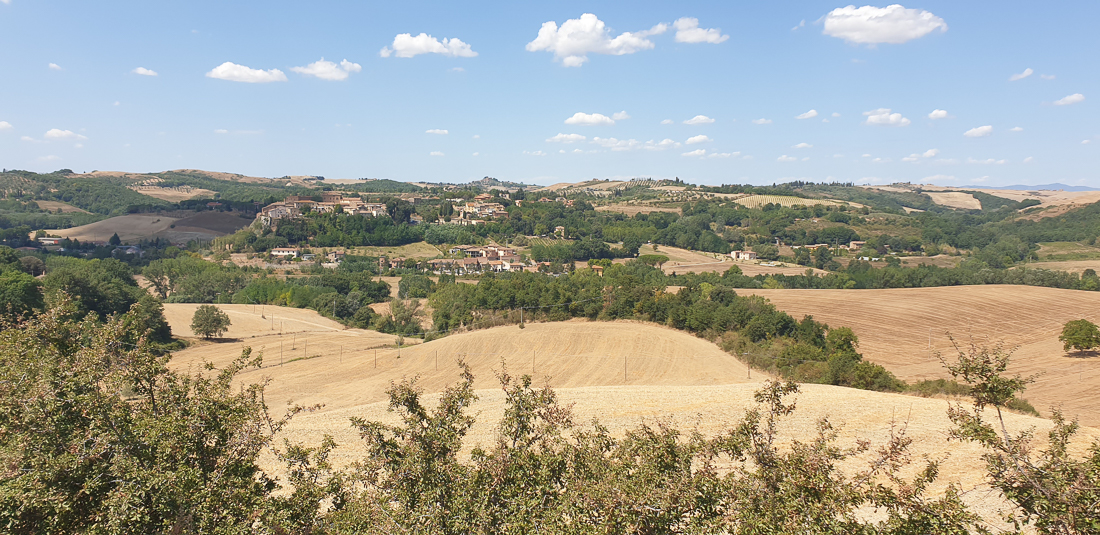 I had expected to ride a number of Strade Bianche gravel segments around this point, but they never came. Actually, Alan S. had told me before the ride that they were optional. I found that odd, as I had never seen anything about that on the web site, and there was only one version of the official GPS track. Plus, the stage presentations clearly mentioned Eroica and white roads. It's a little disappointing that I missed this. At one point I saw a sign indicating a Strade Bianche road, but I assumed that just meant we were getting close to the segments that would be on our route.
At the next control, I felt like taking a long rest, but I also knew that I really needed to get to yet another control in order to make reasonable progress this day. I talked to a Romanian guy that I recognized from the hotel. He was also feeling down at this point (who wouldn't be?). I tried to get some sleep in the shadow under a tree, but I was basically too restless and soon decided to carry on.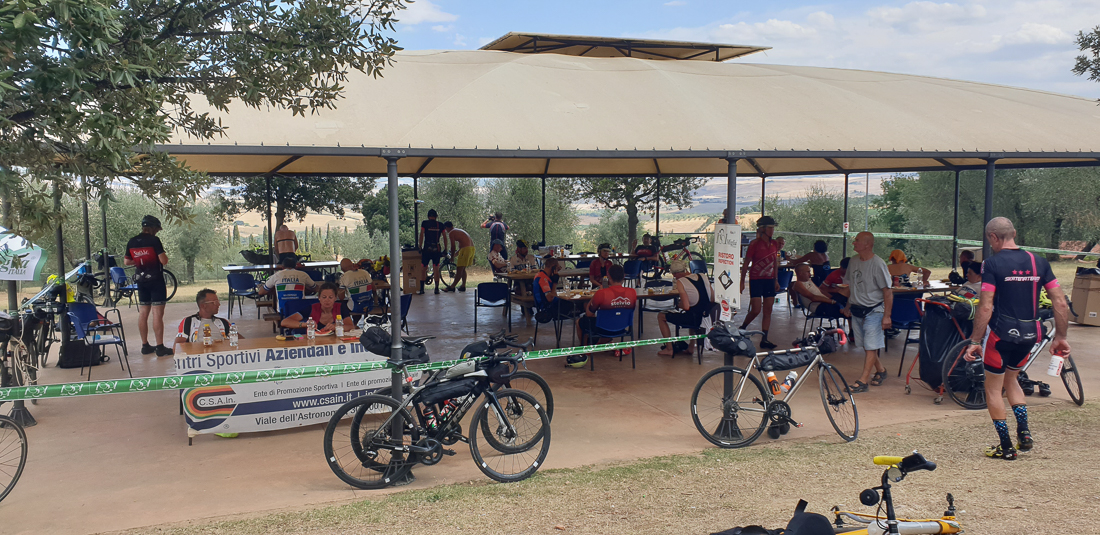 I was a bit uneasy about the upcoming stage 8. It was another long one, and according to the route info, there wouldn't be sleeping facilities at the control at Bolsena. The stage after that was far too long to do without sleep. And where I was now was too early in the day to stop. Besides, there weren't proper sleeping facilities here either, as far as I could tell. There was nothing else to do than to ride there and see.
During the first climb of the stage, I was quite alone, and I got an odd sensation that most of the others had distanced me, and that I was now near the back of the field. This was more of a feeling rather than a logical thought, because I knew I was keeping to a sensible schedule pretty well. Still, when I saw a petrol station with bicycles parked, I stopped there too, just for the sake of company. And what great company I found! Alan P. was there, along with fellow TCR rider Dylan Hubble. So we did some more chatting about TCR until it was time to get going again. I didn't ride with them, however. When I'm on a recumbent, I have a different pace than the others. Faster on the flats and slower in the hills. So the recumbent is my solo riding machine.
The heat was gone, and the next part wasn't that hilly either, so this was a long nice ride into the evening. Just as I was going to stop at the side of the road to get something from my bags, a sign said 1001 Miglia Secret Control. That was a restaurant. Just a quick stop to get the stamp, and then we continued. At this point, I had plenty other riders around me too. On a descent, we passed the beautiful evening lights from the town of Sorano, and shortly after we were in Pitigliano, the town on top of a cliff. All of a sudden, it became clear why the rest of Italy seemed empty. Everybody was here! We navigated our way through a pack of cars and pedestrians. At the climb out of town, Belgian rider Pierre Yves Rosoux and I stopped to take photos of the evening lights before carrying on over the final big climb of the day.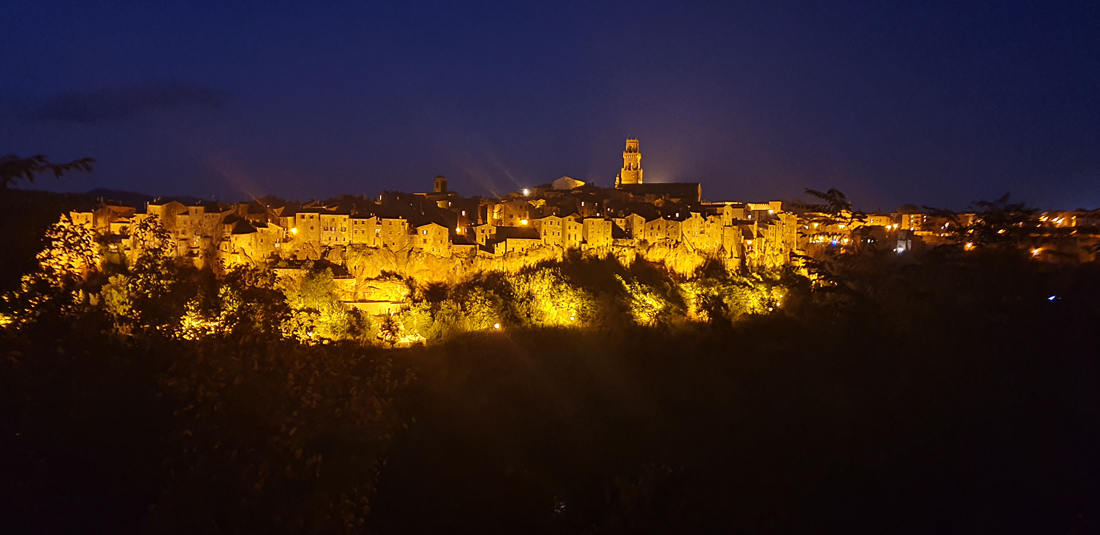 It was long and dark, but not very steep, and quite pleasant to ride. I felt like I was doing well here. At one point, we passed a group of police cars at the side of the road with flashing blue lights. Oddly, this happened again further up the climb. After the summit, all that remained was a quick descent and a flat part along Lago di Bolsena. I'm sure it must have been beautiful, but I arrived and left again under the cover of darkness, and saw nothing of it.
My first question when a volunteer came to scan the QR code of my start number was if it was possible to sleep here, and I was relieved when he said it was. In fact, there was a big sports hall available to us, and there was even a stack of firm mats in the corner. I pointed this out to Giorgio at the end of the ride, and he told me that the pandemic had almost denied them the use of the sports hall, but it had resolved itself just in time for the event. There was also supposed to be local specialty food at this control. That was accurate, as we were fed some yummy pork meat in bread. Yes, a little like a kebab, but not really. And there was supposed to be thermal baths here. I saw no sign of that, although there were at least proper showers.
Thursday
I slept for 3 hours and 15 minutes. Then it was time for some more of that pork meat. Pierre said he had not been able to sleep so far on this ride. Apart from a few short naps, he wouldn't be sleeping for the rest of the ride either! I got ready to go and headed out into the darkness to start the northbound journey. I climbed for a little less than an hour, then descended down to a small village just outside Orvieto, another town on a cliff. A bar had just opened for business, so I stopped for coffee and a bun. Dylan and some others also appeared.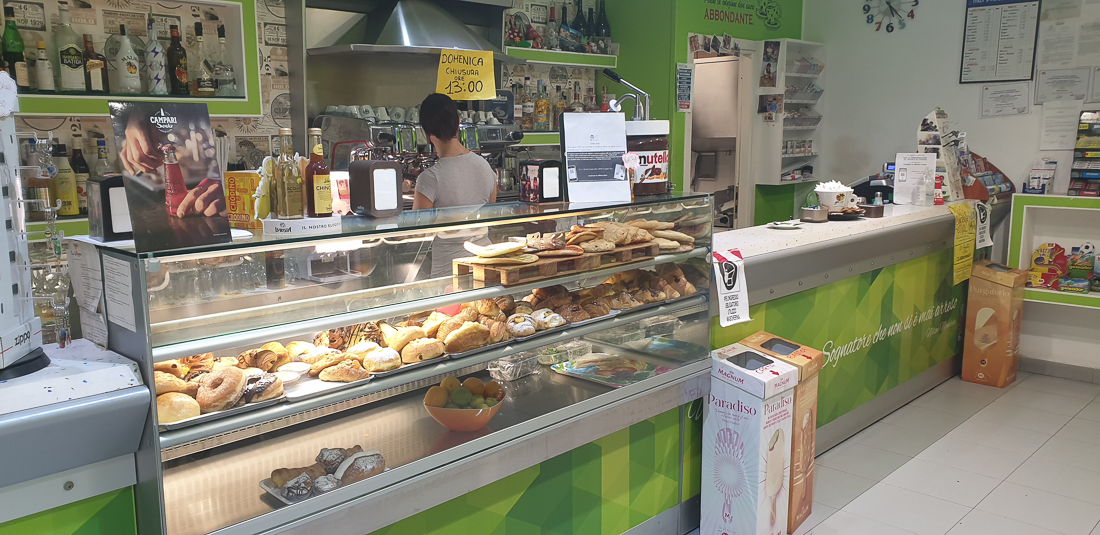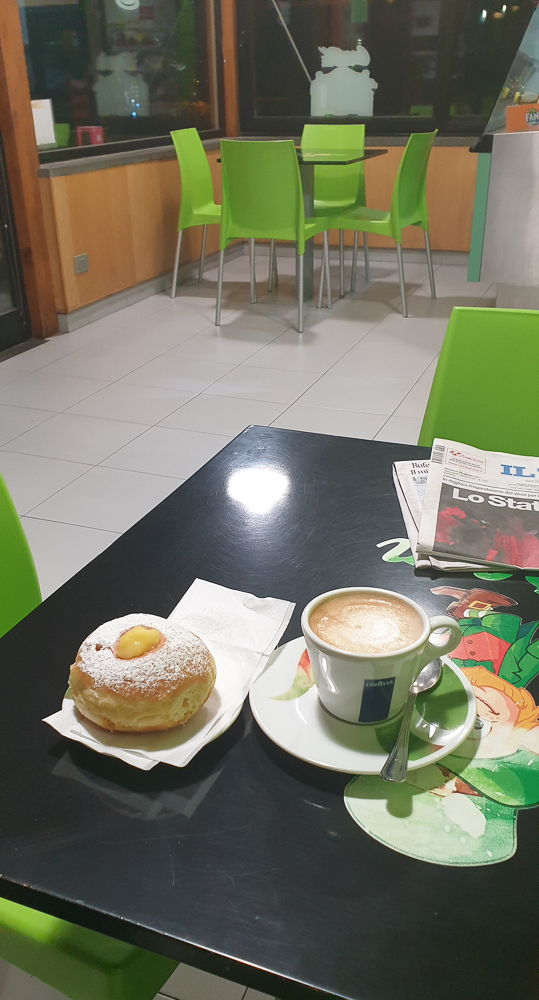 The next climb was a long one, up 700 meters. Halfway up, I was rewarded with a great view over Orvieto. I remember the descent as one of the nice ones with good tarmac. I was keeping an eye out for a secret control that was announced to possibly be here (they weren't entirely secret), but there wasn't anything there. Dylan and a few others passed me.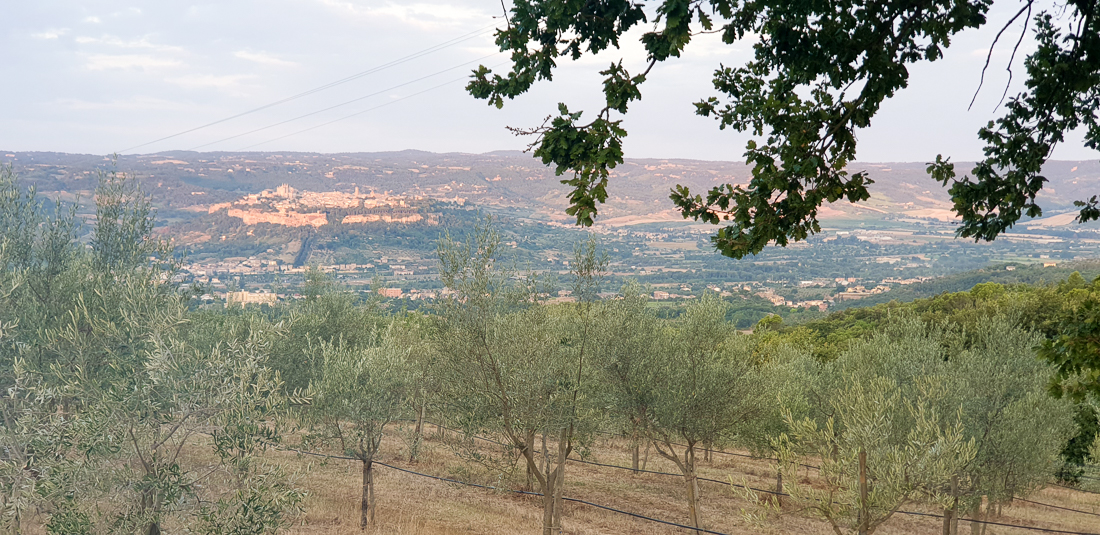 At Marsciano, at the bottom, I stopped at a cafe to have more coffee, a croissant, and some sweets to snack on. As I was about to leave, Alan S. showed up. That was a nice surprise, as I hadn't seem him at all since the start. I had actually been wondering where he might be, and if maybe he had retired from the ride. But he told me he had seen my bike at the sleep stop in Pontedera, and so of course he had never been far behind. He was not looking in great shape, though, as if he was running low on fuel. I expected him to take a long food break here, so I continued without him.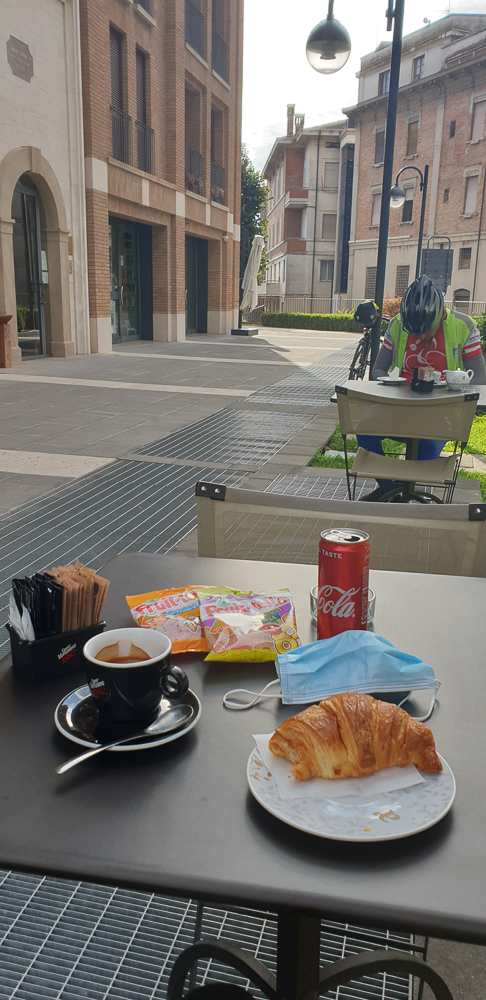 I stopped at a pharmacy to buy more sunscreen shortly after, and what I didn't know was that Alan would be right behind me after that. He later told me he had jumped on the bike again, seen me on one of the many lesser hills, but not quite been able to catch up due to a knee issue.
My energy level was running low as well, and as I reached the beautiful Lago Trasimeno it had become rather hot again. I was desperate for a big cup of ice cream, but it seems that even in this popular tourist area, not much was open for business. I eventually found a bar where I had a cold drink and a cold ice cream. That prepared me for the final 30, mostly flat, kilometers of the stage. Again, Alan and I must have leapfrogged each other here, without knowing it, because we stopped for breaks at different places. He had a longer food break, though, which is why I didn't see him at the next control. Anyway, after my ice cream, two fast riders appeared, and I decided to hang on to them. That also helped navigating through some urban traffic around the lake. As we reached the only small climb, one of them had had enough of the speed, and they eased off. I was on a mission to reach the control, and kept up the pace.

At the control, the temperature was 35 C, and I was certainly feeling the effect of that. There weren't a lot of other riders there. Pierre was about to leave when I got there. Giorgio from the organizer team was there too. He advised me to take a break during the hot afternoon. I had some much needed food, then I laid down on one of the very inviting couches that were there.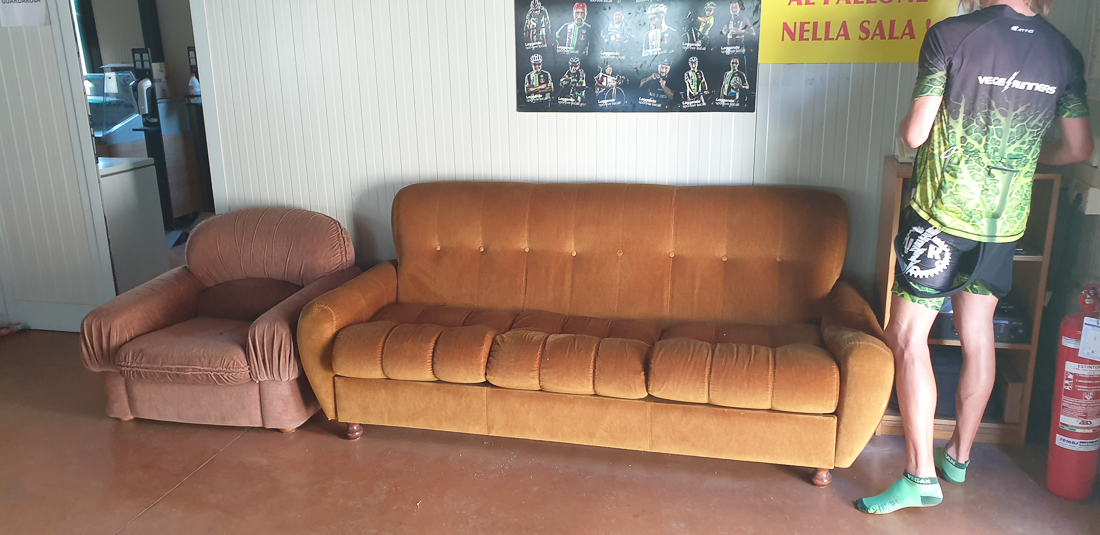 But I wasn't able to doze off, and soon after I drenched my head in cold water, filled my bottles, and got going again. I felt I needed to complete two more stages before I could call it a day. The next one, stage 10, would take us almost to Florence, but it shouldn't be too bad, and I would be reunited with my second drop bag at the control. Oddly, the climbs at the beginning went smoothly.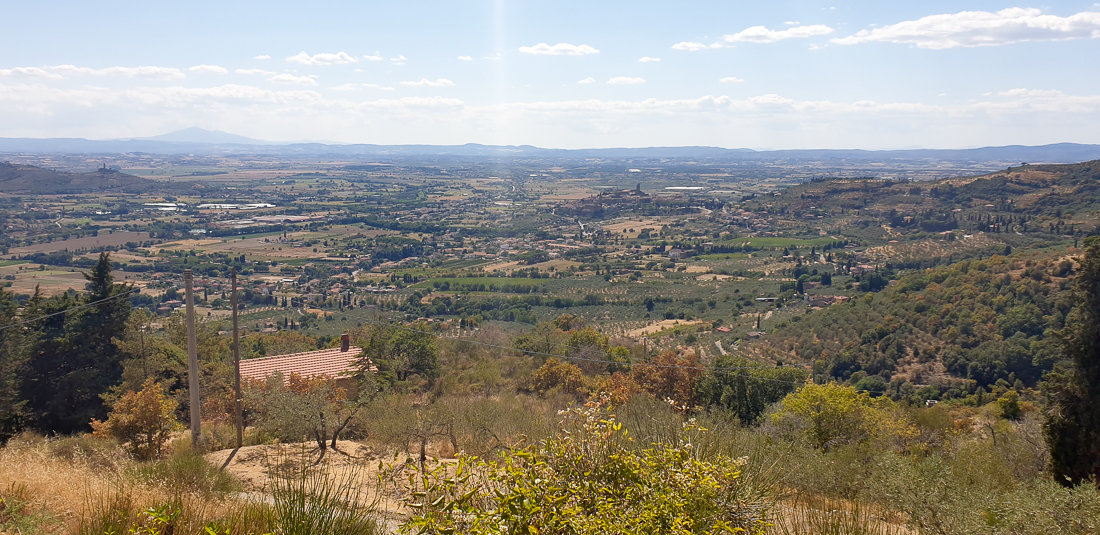 But just after, at Arezzo, I felt the heat getting to me again.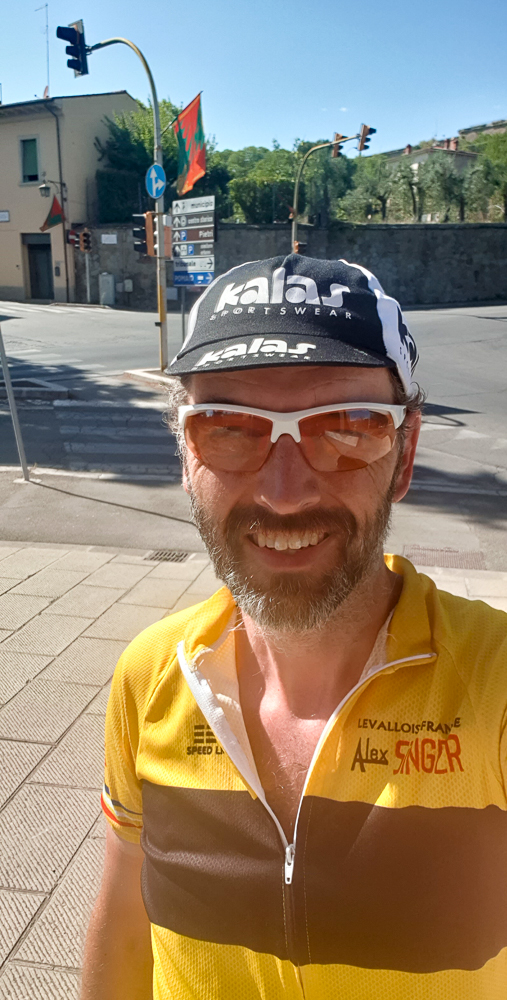 I remembered what I had been told before the ride, that every little village had a water fountain, and realized that I hadn't actually seen a whole lot of them. On the Ride With GPS app there's a map that shows water points, so I decided to use that to find the nearest one. It wasn't a fountain, just a tap. And when I opened it, there was just a slender stream of really warm water coming out. I never bothered looking for water points again after that. Instead, I stopped at the next petrol station for a cold drink and ice cream.
A little later, I crossed the Ponte Buriano bridge from 1277. Apparently, this may be the bridge visible behind Mona Lisa's back.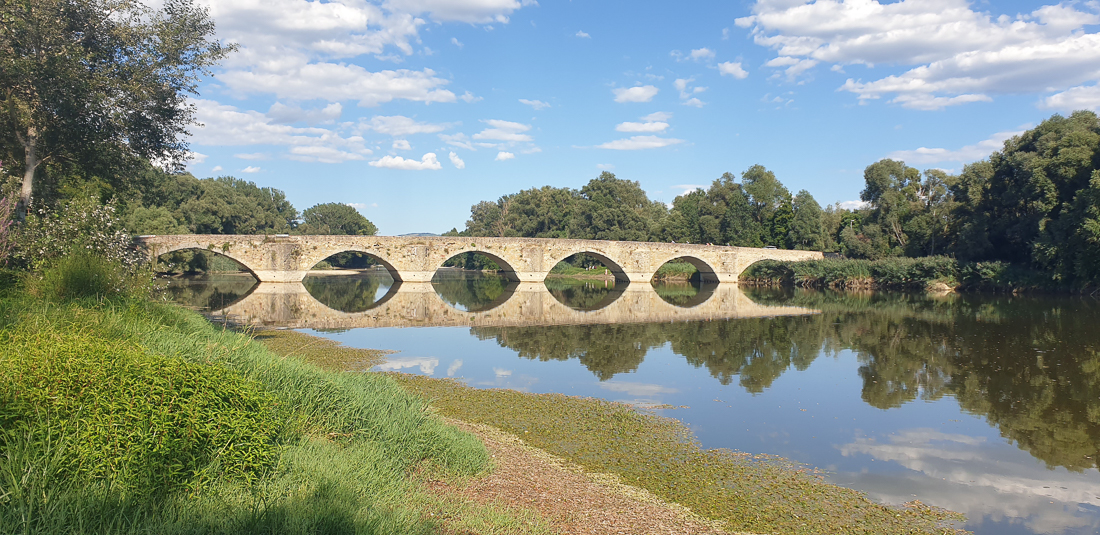 At some point around here, I thought something had gone wrong with my dynamo. I would be going down a slight descent, but the bike wouldn't pick up speed. I thought the dynamo had decided to draw a lot of power, possibly overheating itself. I stopped to check, but the wheel turned just fine. I'm still not sure what it was all about, but it is possible I had gone «gradient blind,» thinking I was descending just because I wasn't climbing, while in reality the road was mostly flat. In the end, I just continued, and the dynamo didn't bother me again. I eventually made it to the bag drop control. Alan P. had been there an hour, and was about to leave. There was a nice, covered area with mats, and not many people were sleeping there, so I rested for about 25 minutes. Then I got food and proceeded to once again replace the Li-ion cells with fresh ones from my drop bag. As I was doing this, Alan S. surprisingly appeared. I had expected him to be a few hours further back, given the state he was in when I last saw him, but here he was. Although, once again he looked shattered, and I expected he would take his nightly sleep stop here, while I was determined to make it one more stage.
The biggest climb of the ride was coming up, and I felt ready to tackle it. We would be climbing from 100 up to 1000 meters above sea level. It had become late in the day, and as we were not far from Florence, the lower part of the climb was lively with restaurants and lots of people about. But soon enough the road narrowed, it got dark and quite steep, there was nothing but trees around, and there were only a few other riders near me. Doing moderately steep climbs on my Cruzbike is usually no big deal, but with the darkness, fatigue, and slight sleep deprivation, it became a bit of a challenge to keep the balance. On the narrow road, I was weaving all over the place. There wasn't much traffic, but each time I heard a car, I had to concentrate hard to stay on the correct side of the road. I didn't want to stop, because it might be difficult to get started again. I could see city lights far down below me. Not sure if that was Florence, or some suburban towns. After a miserable hour and a half, I reached the top, and entered the Vallombrosa Nature Reserve on a narrow, winding road through a forest of enormous trees. Truly magic at night!
It was chilly at the top, and I worried a little about the long descent. But the temperature turned out to not be a big deal. Instead, the tarmac was really bad, and the bottom of the descent was really steep as well. I was running the rear brake a lot. The front brake was left alone due to the problem mentioned before. I had met two other riders at the top, and like me, they were taking it easy down the descent. It was nice to know I wasn't entirely alone around here.
Next was a 30 km flat stretch to the control. That's not much at all, but at this point, it felt like a big undertaking. I would really have liked a coffee, but, of course, there was nothing. I stopped just to stretch my legs for a few minutes. This is the sort of point where you can draw on your experience as a randonneur. You know you'll just have to get back on the bike and start pedaling. Eventually, a group of Spanish riders came up, and I hung on to them. We passed the Mugello race track in total darkness, and I saw nothing of it, and after a few short, steep power climbs (again struggling with balance), we were at the Scarperia control.
That control was the epitome of spartanness. Another bowl of basic pasta and tomato sauce. No separate dormitory, it was just a small sports hall where one half was for eating, the other half for sleeping. As this was a natural place for a nightly sleep, all the mats were already occupied. I asked if they by any chance might have any more mats. After a volunteer digged around for a while, he came back with one square firm mat, enough to rest my upper body on. There was also a lot of noise from people talking loudly. This wasn't entirely unexpected, but what surprised me was that the volunteers were responsible for this noise!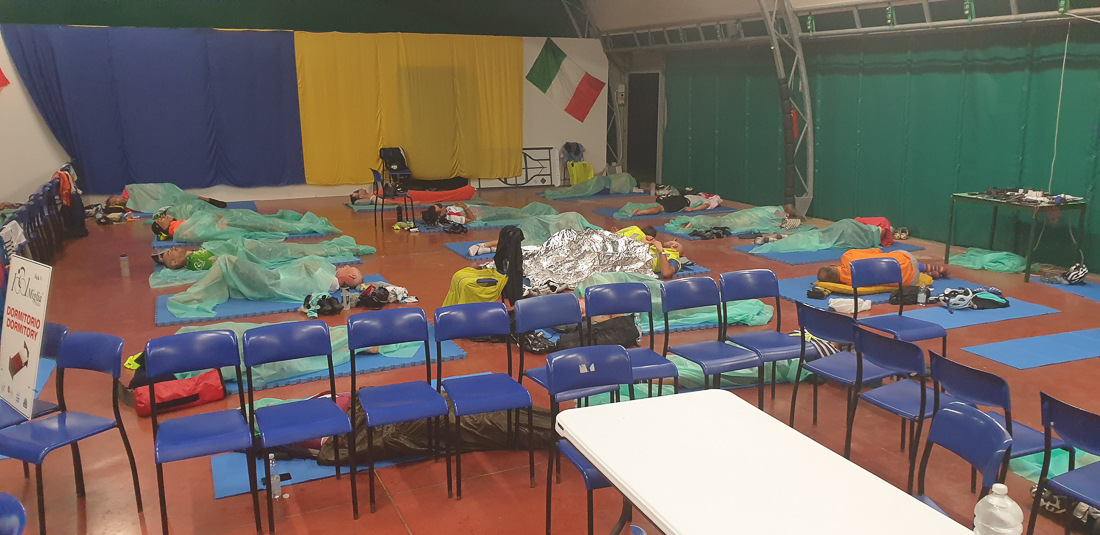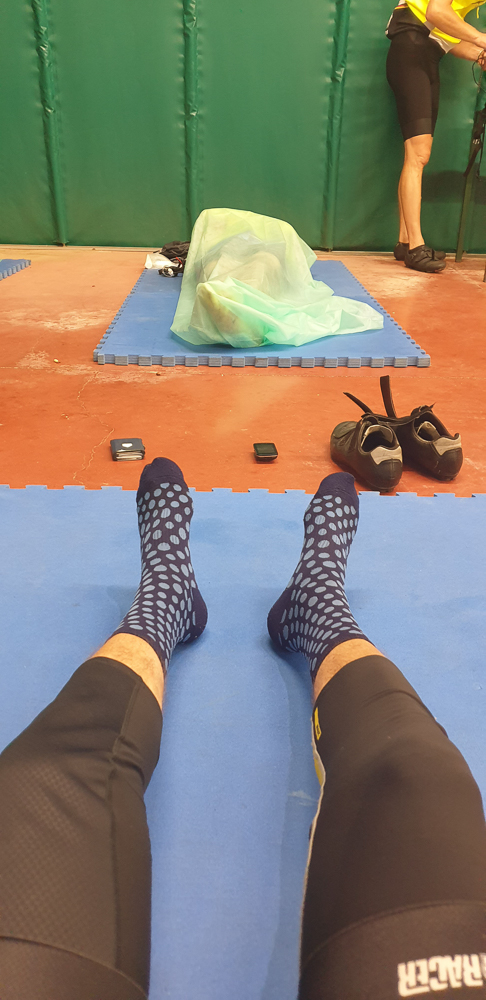 Dylan got there about the same time as me, so we ate together. Alan P. was also there and already sleeping. As I was getting ready to sleep, Laurens was getting up and ready to go. I hadn't seen him since the first bag drop, and was surprised to see him here. But I didn't see him again later. I got 3,5 hours sleep. At some point during the night, more mats were vacant so I could upgrade to a full mat.
Friday
Dylan was up at the same time as me. Alan P. was still sleeping. I was eager to get going and complete the final climb of the ride, and I was even more eager to enjoy more than 500 km on the Cruzbike without a single hill. The 600 meter climb was tackled without any issue. What a contrast to the night before! I was so looking forward to the summit, and when I reached it, the first sunlight of the day had appeared and there was a cozy bar there so I could enjoy a nice morning coffee. I was chatting with Holger the German who I had seen on many of the controls before. There were other riders there too, and both Dylan and Alan P. appeared. Even though Alan P. had been sound asleep when I set off! I later learned that Alan S. had also got there with them, but he didn't stop. Incidentally, he had photographed the bar with my bike outside without realizing it.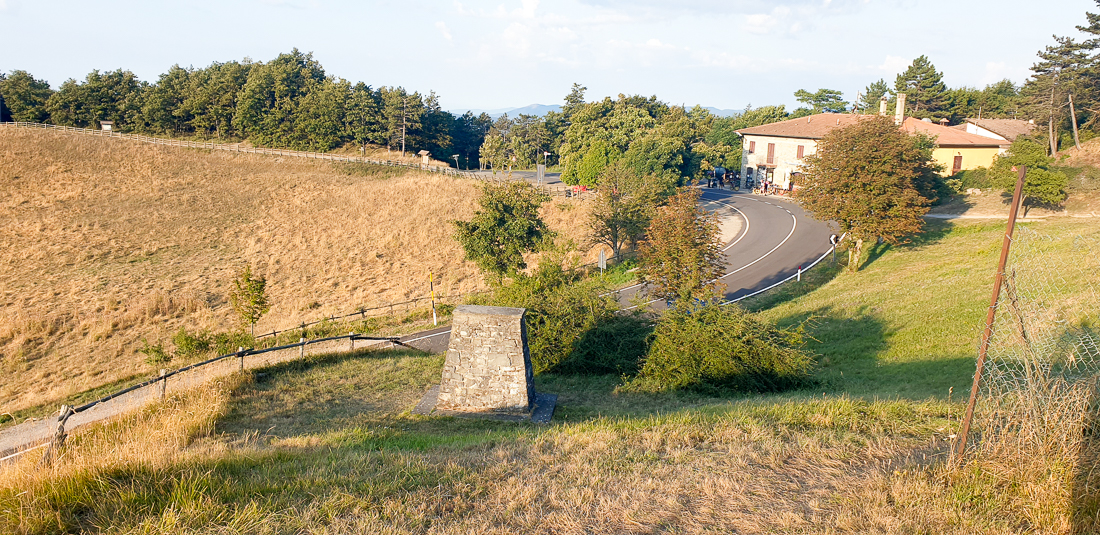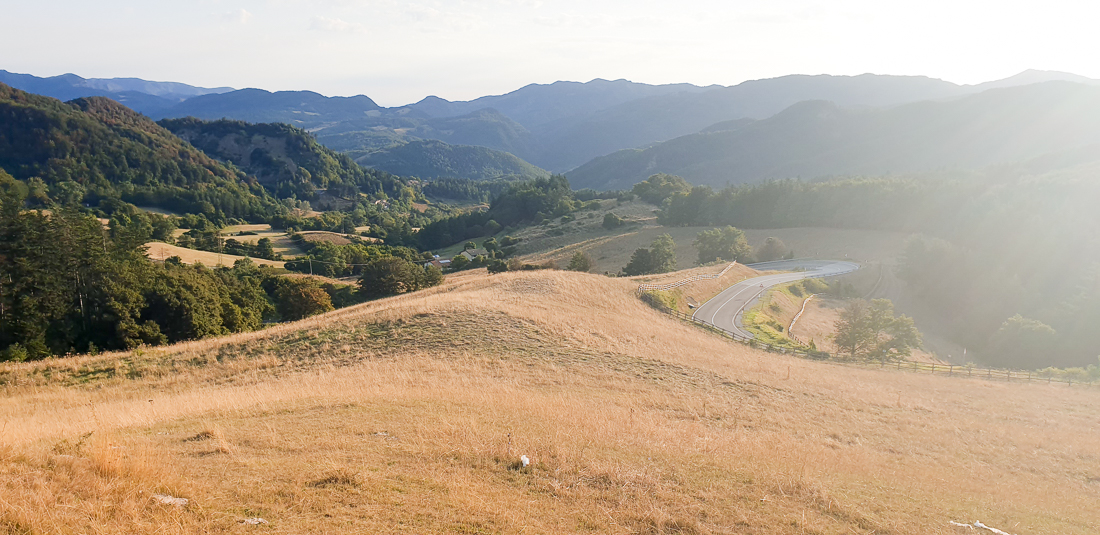 What followed was a descent down to 450 meters above sea level, and then a long, slight decline that went on for 40 kilometers. I was getting hungry, though, and stopped at a bakery. For the first time, I found proper bread, not just the ubiquitous sweet baking. I bought a Parma ham foccaccia and coffee. Delicious!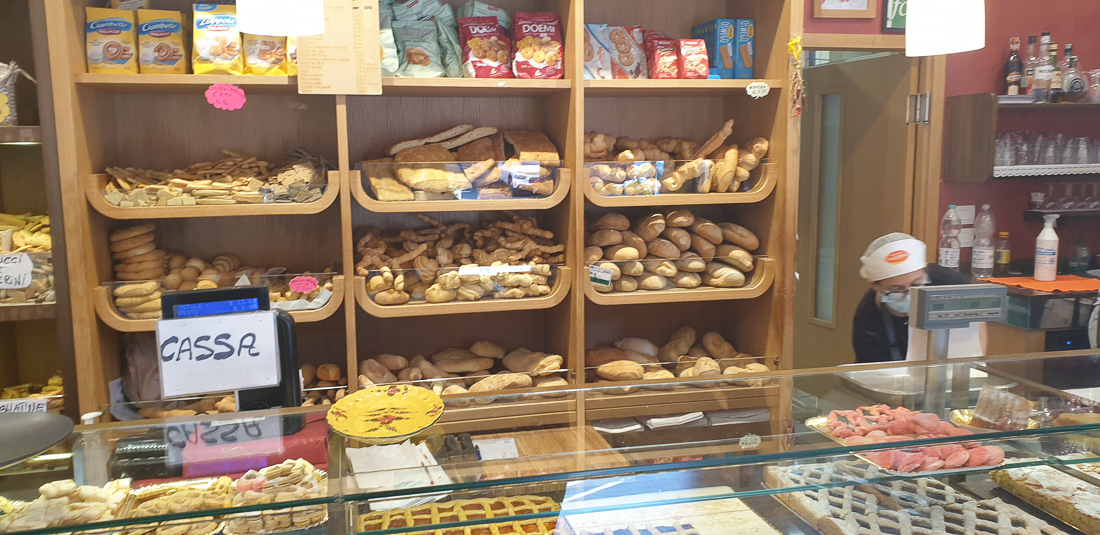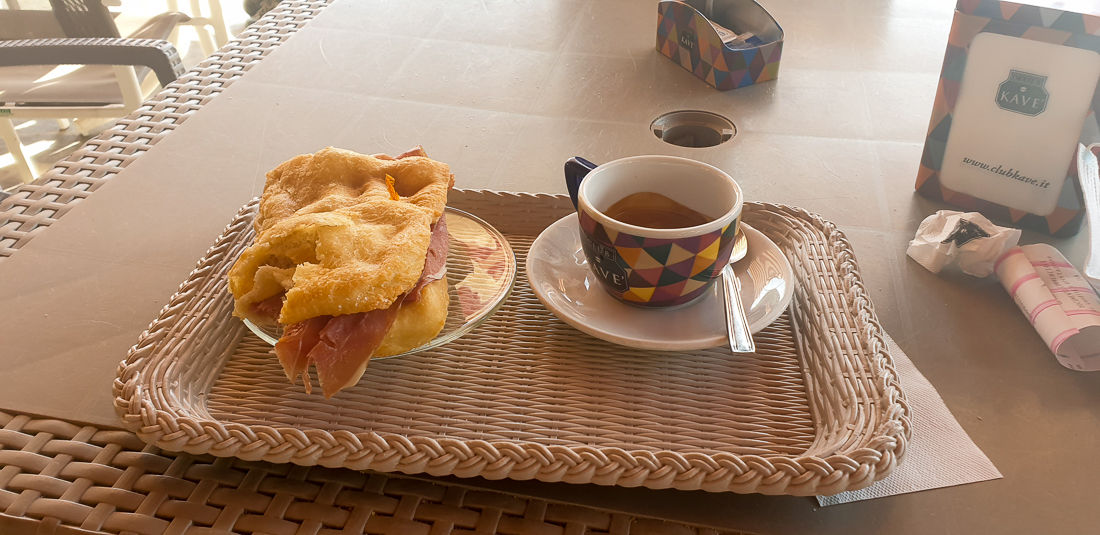 Then I continued enjoying the long, slight decline. At some point, I felt like hammering the pedals, and suddenly I passed Alan P. like a bullet. He yelled some encouragement as I flew by. Fun stuff! 25 km later, I got to the Imola race track and the Ayrton Senna memorial park. When your body is in an exhausted and sleep deprived state from days of cycling, your emotions can easily become a little wonky, and, having previously followed Formula 1 for many years, seeing the Senna statue and all the flags and greetings put an immediate lump in my throat.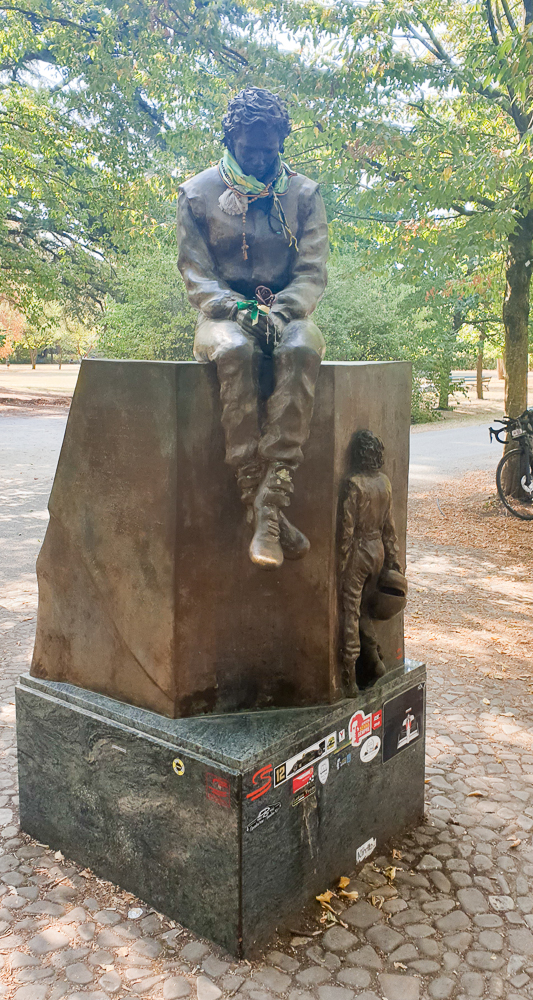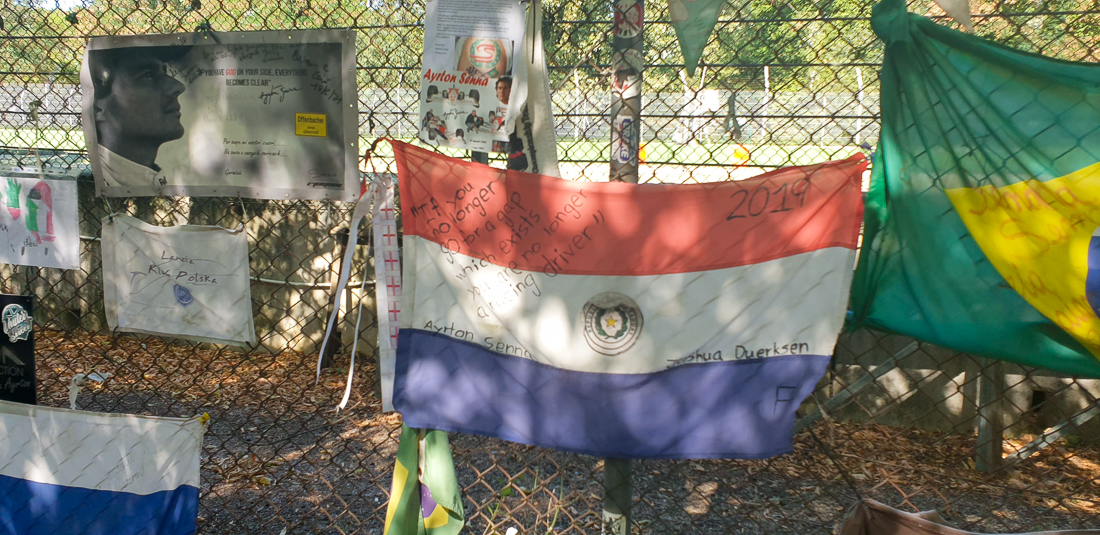 On the 25 km between Imola and Lugo, I was still feeling energetic. I left some other riders behind, and then I did it again after we stopped at a railroad crossing. All in all, this was such a nice stage. So good to get a sense of speed after the relentless climbs. Definitely my favorite stage of the ride.
The control at Lugo was nice, with good food, showers and a covered area with mats for sleeping.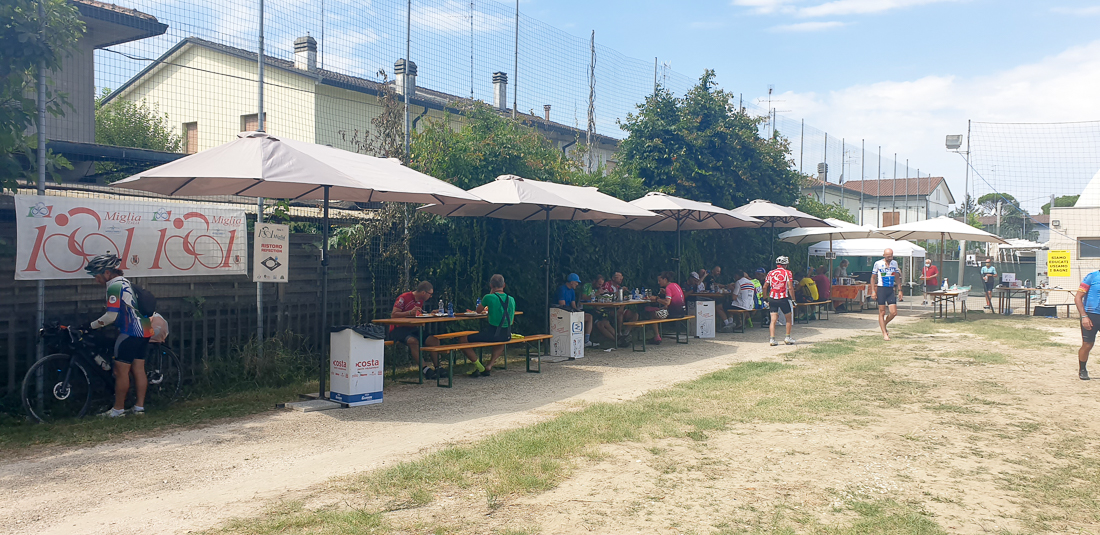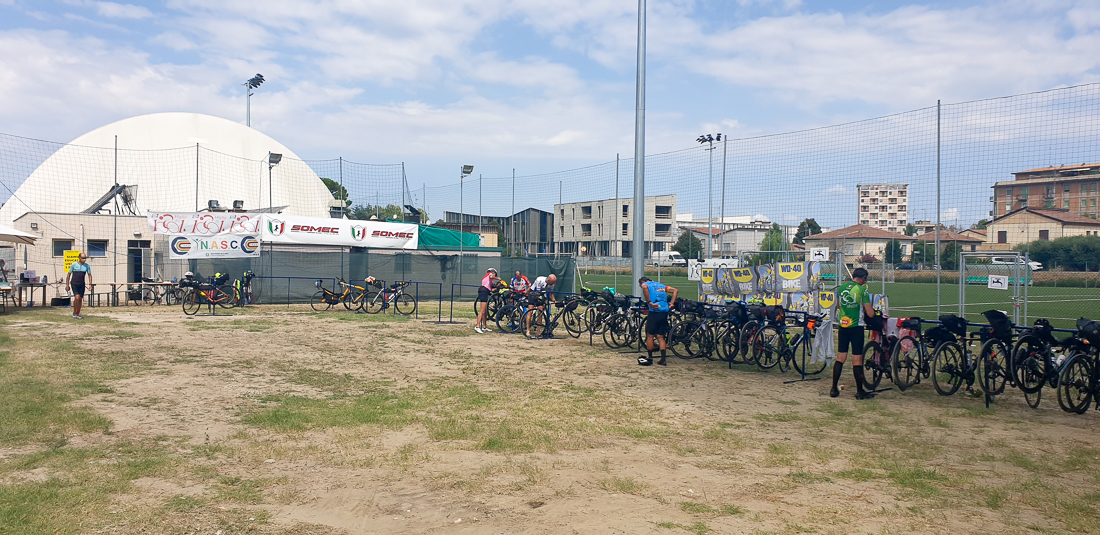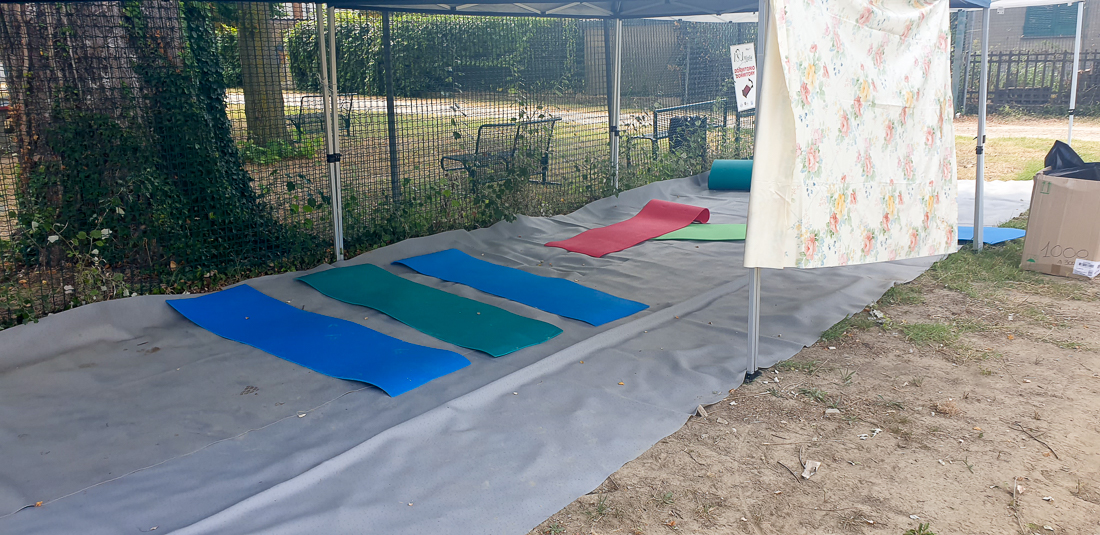 I rested for a few minutes before getting started on the next stage, the first of the entirely flat ones. I soon caught up with Fintan, the Irishman, and we rode together for a while, discussing politics on the British isles (brought up by me). At first, the route was full of 90 degree turns left and right. Eventually, we got on to long straights. Before long, we had collected some other riders, so we were a small group traveling on these entirely flat, straight roads. Really strange how completely different the terrain had become. We had been riding through this mountainous area for days, and now there wasn't even a minor hill to be seen. Back in Norway, even the flat parts are somewhat hilly, but this was flat as a pancake.
At this point, it had become hot again, up to 36 C, and with no shadows in sight. Eventually, the group disintegrated and the heat forced me and a few others to stop at a Lidl store. I bought a lukewarm Coke (no fridge) and an ice cream, the kind that you eat out of a small can with a plastic spoon. Except there wasn't any spoon with the ice cream. I went in again to ask about this, but apparently my only option was to buy a pack of 20 plastic spoons. Of which I promptly threw away 19.
After this was an hour of easy riding into Massa Finalese. The control wasn't where the GPS track said it was. Together with another rider, I rode around town for a bit before we eventually found it. This was another nice control, though. The dormitory was a big sports hall with decent mats and virtually nobody there. Too bad it was still mid-day, but at least I rested for a while. Not sure if I actually dozed off, but I probably did. Afterward, I drenched my head and my jersey in the shower, and went out to get my pasta meal. At this point, all the usual suspects were there, including Alan S., who continued to always be one step ahead of where I thought he would be. This still wasn't the last time that happened.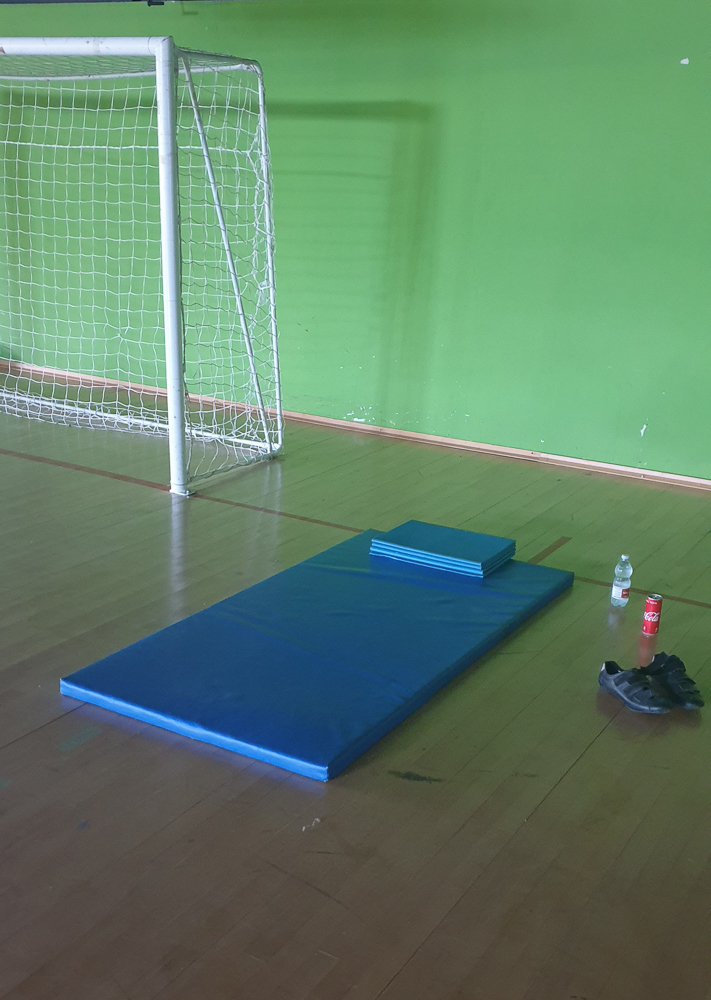 The next stage was a particularly nice evening ride along the Po river, and much of it was on a nice quiet road on top of a flood barrier. The temperature was perfect, the evening light was beautiful, the tarmac was pretty good here, and there was hardly any traffic. In fact, there was hardly any sign of life at all, even though I was riding through a quite populated area. It was almost a little eerie, actually. Still, another favorite stage, second only to the gentle descent to Lugo earlier.
As the ride was drawing to a close, the controls kept getting better. The one at Pieve di Coriano was at a big sports field. There was a dormitory in a sports hall with a single volunteer outside who actually understood the value of keeping quiet so as not to disturb the people sleeping. And they were not sleeping on gym mats. Oh no, they had proper camp beds! The food area was on the other side of the sports field, leaving the dormitory in peace and quiet. Food was served by some cute girls eager to practice their English, bombarding us with a million questions starting with «Do you want …». Both of the Alans showed up, and we enjoyed the meal together. We also chatted with Taras from Ukraine, who was struggling with Shermer's neck, a horrible kind of neck fatigue that I hope I never have to experience.
Due to the brilliant dormitory, stopping here for the night was a no-brainer. Alan P. was determined to continue, though, as it was still not very late. «Even when I am home, I don't go to sleep this early.» I thought about mentioning that the route info indicated no sleeping facilities at the next control, but given my experience with the route info so far, I didn't think I could trust any of that any more. Alan S. and I headed to the dormitory. He was heavily sleep-deprived at this point, and I think he talked about sleeping for many hours. I got my bed and tried to sleep. My upper quads were burning, and it was an odd sensation lying with my legs stretched out. And of course, someone was snoring loudly. But in the end, I dozed off and slept for 3 hours and 20 minutes.
Saturday
I got up, got my second pasta meal, with another round of «Do you want …», and jumped on the bike. It was now in the middle of the night, and totally dark. But riding a quiet, nice road with good lights on the bike is still a great feeling as long as you're not feeling drowsy. Not much to report about the surroundings, as it was all dark. I was still following the river, more or less, just a little further inland. The Cruzbike has always been supremely comfortable to me, even with the stock, completely straight metal seat and pad. But now I was apparently reaching the comfort limit, because my back started to ache. I kept this under control by taking an ibuprofen pill every now and then. The only other issue was my hands. I had to hold the handlebar tightly during all the climbs, and this caused blisters in my hands, just below the fingers. But it wasn't a big problem.
Just as daylight was about to appear, I got to the control at Colorno. This was really just a small cafe, with no sleeping facilities, just as indicated by the route info, for once. Alan P., Dylan, Fintan, and some others had had a rough night on the pavement outside, like vagabonds. I arrived just in time for coffee and a couple croissants. A Spaniard that the others were riding with was very, very tired, and they were all a little concerned by this. They had been riding together for a while, and didn't want to leave him alone at this point.
I was in «getting to the finish» mode, and with the benefit of a decent night's sleep, I managed to get going again before the others. Daylight had appeared, and would accompany me for the rest of the ride. I was riding through a perpetual backdrop of farmland. I remember the slightly nauseating, acidic smell of silage that was always there, for hundreds of kilometers. Inevitably, I got a little bored. I hadn't brought any earphones, because I didn't really want to use that on a ride that isn't entirely solo. But the phone was mounted on the handlebars, and I was no longer worried about spending too much electric power, so I tried putting on a podcast using the phone's speaker («Misjonen», by Antonsen and Golden, for the Norwegian readers). That worked really well, and was a welcome way to kill some time on my way to the final control at Fombio. For some reason, I kept looking on the left side of the road as I passed the control point per the GPS track. I saw no sign of any control there, so I kept going further, based on experience with some of the previous controls. After a while, I had to go back, and, of course, there was a very visible banner on the other side of the road, just where the control was supposed to be. Remember when I said the controls kept getting better? This one turned out to be at a castle with a 700-year-old history. It had showers, a dormitory, and of course a grand courtyard where food was served.
Guess who I bumped into here. Alan S., who surprised me yet again. Last time we spoke, he was going to sleep through the night. Turns out he decided after 15 minutes that he was just going to get on the bike instead! Pierre was here too, just getting ready to go. The vagabonds of Colorno also turned up. I was eager to finish the ride before it got too hot, so I ate quickly, drenched my jersey and hat in cold water, and set off. I even disconnected my dynamo when I was sure I had enough electric energy for the remaining ride, just for the advantage of a few watts. This last stage was 120 km, so I mentally divided it into 3 times 40 km, which I found easier to handle. The last one would be a fun «sprint finish,» and so it didn't count. Just another mental trick, of course.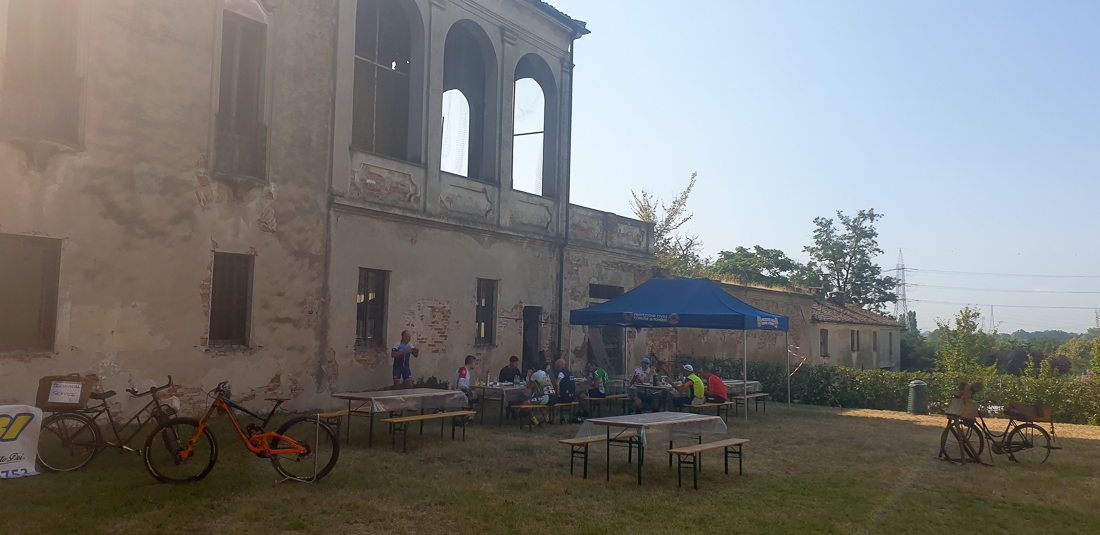 Very soon, another rider passed me. I was a little surprised by this, until I realized it was just a local guy riding very spirited on a vintage Italian road bike. I decided I could benefit from his draft, and I increased my pace so I could hang on. Unfortunately, he soon took another turn, and so I was alone again. As I got closer to the city of Pavia, the landscape turned more urban. At some point, I saw Pierre getting ready to go after a cafe stop. I entered Pavia, and this was really the only busy place on the whole ride. Quite a contrast to the four days we had been through. The tarmac was so bad around here that my chain jumped off the chainring at some point. Shortly after, I hit a pothole so badly that one of my shoes ejected from the pedal. How my wheels survived all of this, without as much as a puncture, is a bit of a mystery.
I crossed the iconic Ponte Coperto bridge, with a 2000-year-old history and with a chapel in the middle of it. Soon after, I was out of the city and the route changed dramatically. I was now in some kind of park-like area, on a road that felt like a bicycle road, although it was just a quiet road. Before long I was back on a stretch of road that we had ridden the other way on the very first stage. Once again, I crossed the Bridge of Boats, but from Bereguardo the route took a different way. This time, we would be going on a nice bicycle path along an incredibly straight canal for 30 km. At some point, a young local rider came up behind me, and I was inspired to keep him there. We rode at a good pace, and for a short while, I was outputting threshold power and going at 40 kph. This was not sustainable for long, of course. Eventually, the route turned east, on a bicycle path close to a motorway. You think you are really close to the finish, but even this part took half an hour. Again, I tried to push, but there was little left in the tank. Also, I had finally started to feel some pain in my knees. Not the bad kind of pain, though, just heavy fatigue.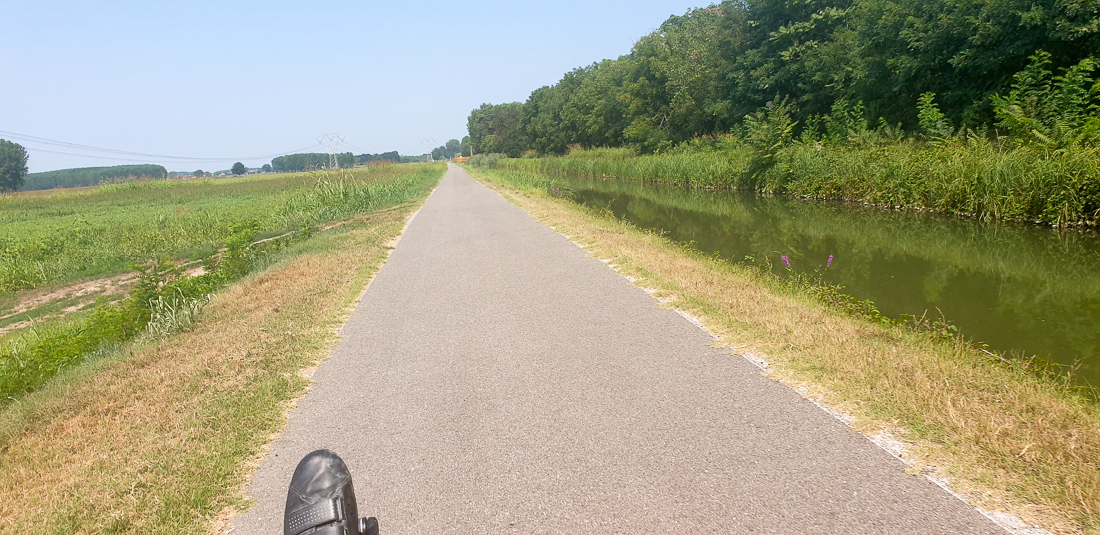 Finally, I was on the last stretches of road leading to the sports centre in Parabiago, where I was greeted by the volunteers. Giorgio appeared, registered my finishing time, and handed me my medal and diploma. He also showed me where to find the showers. Later, I got my final pasta meal, and this time I allowed myself a beer. As I got back to my bike to pack both my drop bags and everything for the ride to the hotel, the group from Colorno arrived. Alan P., Dylan, Fintan, the Spaniard, and some others. Everyone elated to have finished a really tough ride.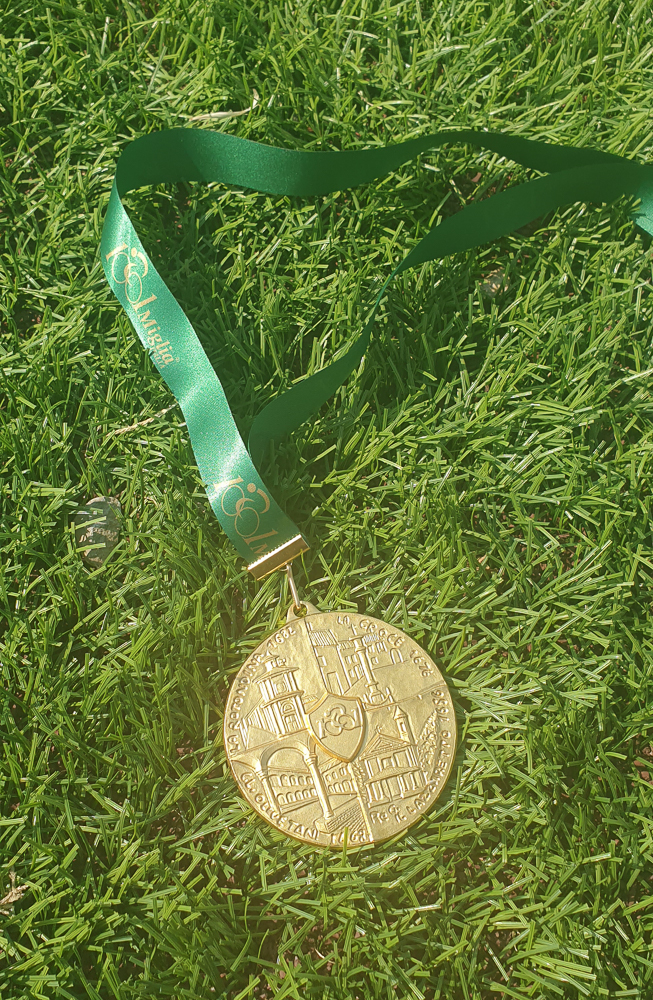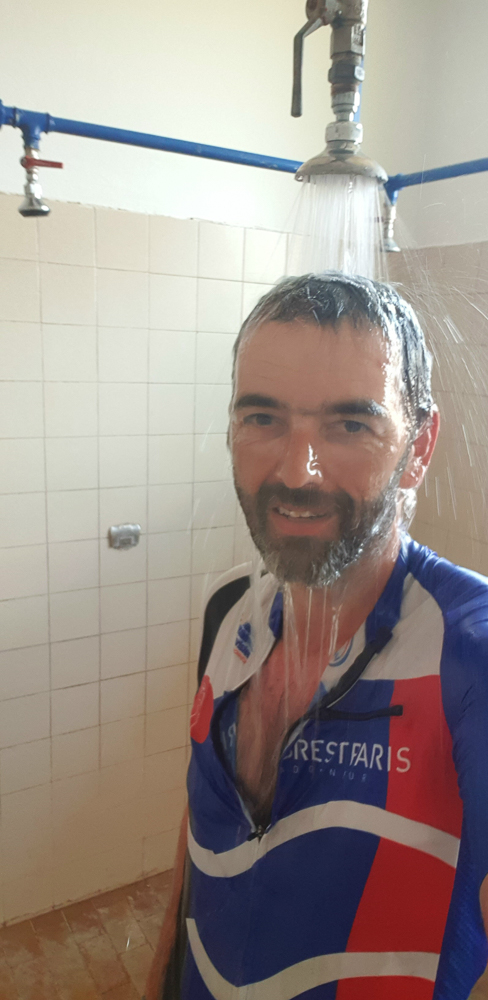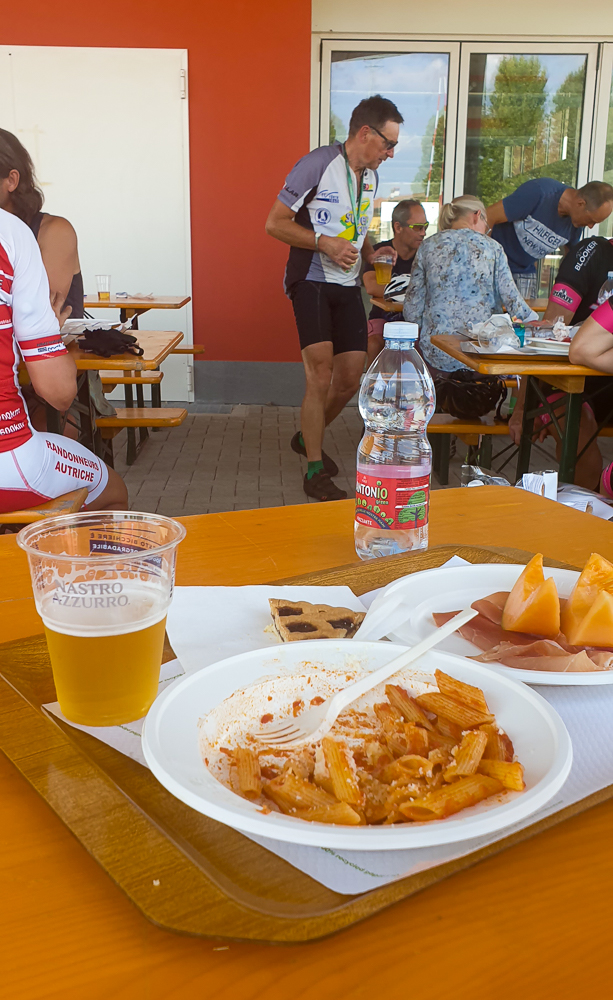 After packing my bike, Alan S. and I went to a very nice Argentinian restaurant opposite the hotel (La Parrilla. The Menu Special is highly recommended!), and exchanged thoughts and experiences from the ride.
I hadn't bothered with checking any tracking during the ride, and I didn't know how far back I was. But I had set up a reasonable schedule before the ride, which I missed by just half an hour, so I suppose I knew I was somewhere in the middle of the field. I was the 89. out of 230 finishers, which I'm pleased with. At the hotel breakfast the next morning, I checked the tracking and found that people had been arriving all through the night. In fact, a German had just recently finished. Both Pierre and Alan P. showed up at breakfast as well. At the hotel Pierre had finally been able to sleep, and he must have had the best sleep imaginable. It was needed too, as he was just about to drive home to Belgium. Alan said he hadn't yet considered how to get home! He had actually ridden his bike here from England, and wasn't eager to follow the same route home. In the end, he did end up riding home, but further north, through Switzerland and Alsace.
A few moments later, as I was outside waiting for my taxi, a tired randonneur appeared. I checked the tracking again, and yes, the number matched the German who had just finished!
Some random thoughts
Let me first say that organizing an event like this must be a major undertaking (just like riding it). All of the controls, except for the first few ones, need to be manned day and night over long, overlapping periods. Many volunteers are needed, and much logistics need to go smoothly. The core team was driving around the course, being available as much as possible. I have deep respect for the work they put in.
Having said that, of course there is room for improvement. The sleeping facilities could have been better. At the very least, there could have been enough mats for everybody who needed one. Honestly, bringing a lightweight inflatable mat wouldn't have been a bad idea. Toilets with a door that locks and enough toilet paper was another luxury that couldn't always be relied on. The route info could have been more clear about what sort of facilities to expect at each control. It would also have been nice to know in advance that the Strade Bianche segments were optional.
Italian tap water held a higher quality than expected. No chloride taste, and just fine for filling bottles with.
There were a lot fewer roadside establishments than I had thought. I expected we would be riding through lots of small villages full of cafes, bars, restaurants, shops, panineria, and gelateria. While we did ride through many villages, they were very quiet. I don't think I saw any malls, bicycle shops, or fast food chains. I could probably find some places on Google Maps if I wanted to, but in the end I relied mostly on the controls for food. People who don't like pasta and melons should seriously reconsider doing this event!
My electric setup worked really well. My Son dynamo supplied my Forumslader and its 3 Li-ion cells, and this in turn powered my front and rear lights, my phone via a Quad Lock wireless charger, my Garmin, as well as my 360 camera (not continuously, just the occasional charging).
My phone was running Ride With GPS the whole time, thus drawing quite a bit of power. I've found this to work much better than Komoot, because I can customize the cues and make sure the phone is quiet with the screen turned off whenever there's just a long straight road with nothing to report. Komoot, on the other hand, tends to wake up all the time just to tell me to go straight. Oh, and both these options are a million times better than navigating on the Garmin Edge 820. Plus, I can free up the Garmin screen for other info than just a map.
Motorists are behaving differently than I'm used to. I don't think anyone was aggressive in any way, but there's a mutual understanding that cyclists keep to the edge of the road so that cars can pass even when there's oncoming traffic. Again, this seemed to flow fine without any dangerous episodes, thus I never felt stressed by this. Besides, there wasn't a lot of traffic.
I've done some long, mountainous rides on the Cruzbike now, and although it handles them fine, it is on flatter routes that the bike really shines. The comfort is a big win regardless (at least when the tarmac is smooth), but if it wasn't for the several hundred kilometers of flat roads on this ride, I wouldn't recommend doing it on a recumbent. I think my next personal challenge will be to complete a ride longer than 600 km on an upright bike in relative comfort. I discussed this with the two Alans, and they both claimed to have completed the 1001 Miglia without any saddle discomfort at all. This was intriguing, as they both ride on Selle SMP saddles. After getting home, I ordered some of these myself for trying out. I will be testing one of them long-term, most likely the Dynamic. My favorite saddle until now has been the Selle Anatomica leather saddle, but even that becomes uncomfortable after about 400 km. I noticed that Martin uses an Infinity Seat. I used one of those too for a while, but it never felt quite right. The hammock shape inevitable made it feel a bit too invasive in the front area. Martin said it is vital to get the angle just right, which was my experience too. Alan P. stressed that regardless of saddle choice, it is a good idea to use any opportunity to stand up. I've been following that advice lately.
Before the ride, I had ordered lots of PowerBar electrolyte tablets. I also took sports drink powder for the start of the ride as well as for the drop bags, but I didn't want to carry lots of sports drink powder all through the ride, like I did at PBP. I've enjoyed the High5 electrolyte tablets before, but never tried the PowerBar ones. I know the advice is to never try something new on an important race, but I really expected them to be equally nice. Turned out I was wrong. They were quite awful, at least after a while. Eventually, I just used water instead. I got plenty of minerals through food anyway.
During a long, tough ride, there are always moments when I question why I'm doing this. If I don't have thoughts like that, the ride just isn't challenging enough. But even the very next day, I start thinking about how I will do the ride «next time.» However, 1001 Miglia was so tough that I was determined not to do it again, and this feeling didn't change the following days. Now that more time has passed, I can look back at the ride and enjoy the memories of adventure and of meeting very nice people, while the memories of relentless hills, scorching heat, and horrendous road surfaces are fading. Still, with so many other epic rides out there, I'm much more eager to try something else than to repeat the 1001 Miglia. But would I recommend this ride to other randonneurs? Absolutely! It was a wonderful experience. Just be aware that this ride is a level or two tougher than PBP.