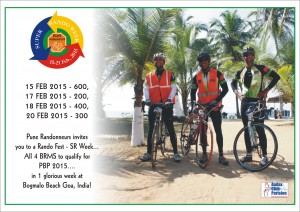 Hope the new season of Brevets is going well for you. I would like to take this opportunity to invite you to a week of Brevets in India. Pune Randonneurs is conducting the entire series in 1 week of back to back brevets in Goa.
Goa is a wonderful holiday destination, with good weather, great beaches and food, and of course… cheap beer! Bogmalo is a cozy little village and not too many tourists, with a wide range of accommodation, all of which is within 3 km of the beach. The routes are rolling, similar to what one can expect in PBP, and the traffic is only a little crazy, but the countryside is lovely.
Route details - Tentative Route Maps
I hope I can tempt you to join us here!
Warm Regards
Divya